A little while back, I purchased this.
You can find it at my-not-so-secret-favorite
here
.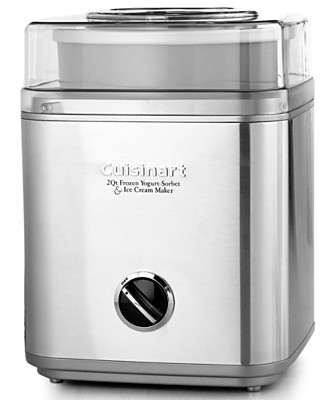 And I'd be lying if I told you that it wasn't one of my best purchases ever.
This machine makes me look good.
I can't tell you how fancy I feel when I am entertaining and bring out a homemade lavendar raspberry gelato or pumpkin pie ice cream. I like to think my guests find me impressive. When in reality I just threw a bunch of things this little tin box!
In fact, I love it so much that I bought
Annie
one
and I am 71% sure that I'm buying my bff one for her birthday as well – so she will have two!
(Two different homemade ice creams going at the same time!?!? Personally, I can't think of a better birthday present.)
Needless to say, in this Texas summer heat, we have been putting this little machine to good use.
So far this summer me and my little trio have tried:
Banana Nut Ice Cream
Pumpkin Pie Ice Cream
Strawberry Ice Cream
Key Lime Sorbet
Lemon Sorbet
Creamsicle Ice Cream
Orange Sherbet
Old Fashion Root beer Slushies
Raspberry Gelato
Raspberry with Key Lime Gelato
Strawberry Gelato
and old fashion Vanilla Ice Cream
But out of all of the different recipes we've tried, by far my favorite is the Raspberry Lavender Gelato.
It is fantastic.
No one wants to look good alone. So go buy yourself an ice cream maker and try this recipe…
4 c. Red Raspberries (thawed if frozen)
1 c. granulated sugar
2 1/4 c. half-and-half, divided
6 large egg yolks
1/4 c. fat free powdered milk
1 c. heavy cream
2 tsp. pure vanilla extract
2 Tbsp. dried edible lavender flowers
a few drops of red food coloring (optional to enhance color)
Place raspberries in a food processor fitted with the metal "s" blade or in a blender (if using a blender, 2 cups at a time for best results). Process until completely pureed and smooth. Press raspberry puree through fine mesh sieve with a spatula. Toss out the seeds and you should be left with about 2 cups of puree. Set this aside.

Mix sugar and 1 1/4 cups of the half-and-half in a 2 1/2 qt heavy bottom saucepan, add lavender. Bring to a simmer over medium heat and stir to dissolve the sugar. Keep warm over low heat. Place the egg yolks in a medium bowl and whisk until thickened, about 2 minutes. While whisking, add 1/2 cup of the hot half-and-half/sugar mixture and whisk until blended. Stir the egg mixture back into the saucepan; increase heat to medium. Stir the mixture constantly until it is thick like a custard sauce and registers 180º with an instant read thermometer.
Stir in remaining half-and-half, powdered milk and heavy cream. Strain the mixture through a fine mesh sieve. Stir in reserved raspberry puree, vanilla and optional food coloring. A natural substitute could be beet juice, if you would rather. This may slightly affect the taste, but I haven't tried. Cover and refrigerate for at least 6 hours before continuing. Turn the machine on and pour your chilled mixture into the frozen bowl. Mix until thickened, about 20-25 minutes. The gelato will have a soft, creamy texture.