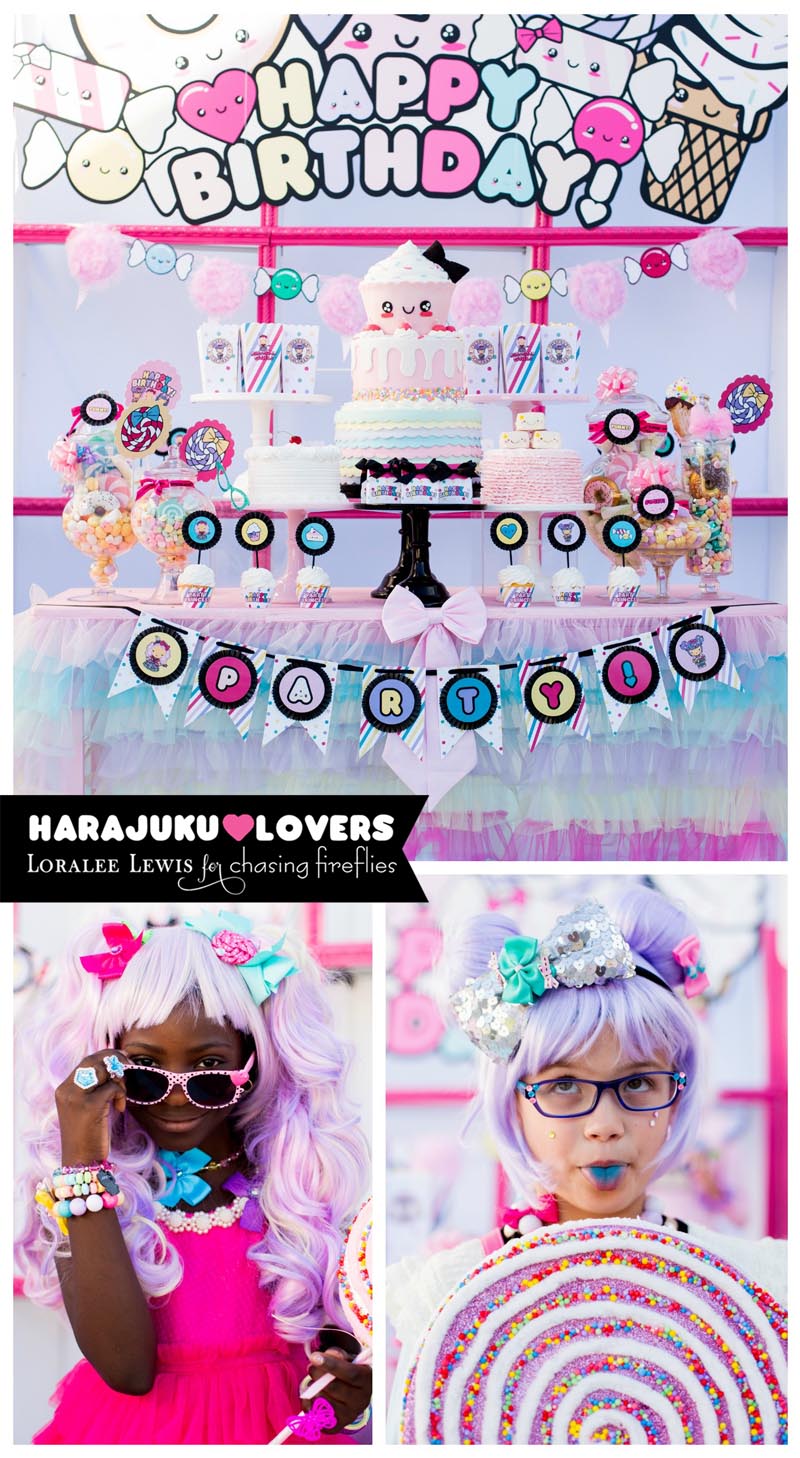 Early in 2015, Chasing Fireflies reached out to me and asked if my company would be interested in designing and manufacturing the party products for Gwen Stefani's Harajuku Lovers Party Line.  I (of course) was beyond delighted. A whole collection inspired by the fun of Harajuku was simply a dream come true.  Each party product was carefully designed and then meticuloulsy edited by both Gwen Stefani's and the Chasing Fireflies teams.   In all, we created the following products for the Harajuku Lovers Party Line:  invitations, popcorn boxes, photo prop kits, straw and pennant kits, favor boxes, cupcake kits, and rosette pennant banners.   You can find all the products exclusively at Chasing Fireflies.  My favorite product I designed is the cupcake invitation!  See all the fun products we created for the line below in our photo shoot!
In addition, Gwen Stefani also teamed up with Chasing Fireflies to create not only a party line, but an incredible clothing and costume line.  Chasing Fireflies sent me several of the adorable outfits for our models to play around in for our Harajuku Party shoot!   One thing I loved about the clothing line is how soft and wearable the clothing is.  Definitely check it out, if you're like me and have daughters who love soft wearable clothes!
Special thank you to Chasing Fireflies and Harajuku Lovers for knowing the quality my company brings to every endeavor and trusting us to create the party products for this line.   Thank you to Lindsay Salazar Photography for taking these beautiful photos, Betheny Tomseth of The Apothecakery for making our cake for the shoot, and all our little kawaii models for bringing the fun!