Like any good romance novel, my tragic love affair with cupcakes will not end anytime soon. And with Valentines Day around the corner, is there really any better time for a second installment of how to creatively frost the little puppies?
If you missed my first cupcake frosting how-to you can find it here: How to Perfectly Frost Cupcakes 101: The "Ice Cream Swirl" Methodologies. It's simple. You'll love it.
This particular frosting technique I ran into a few years ago in Dallas at The Cupcakery. I saw it. I loved it. I took a mental photo and tried it at home. You may or may not remember it from my 2010 post on Cupcake Doilie Skirts. After that post, I can't tell you how many emails I received about how I frosted those darn cakes! No one believed me when I told them it was easy, so here (two years later) is the proof…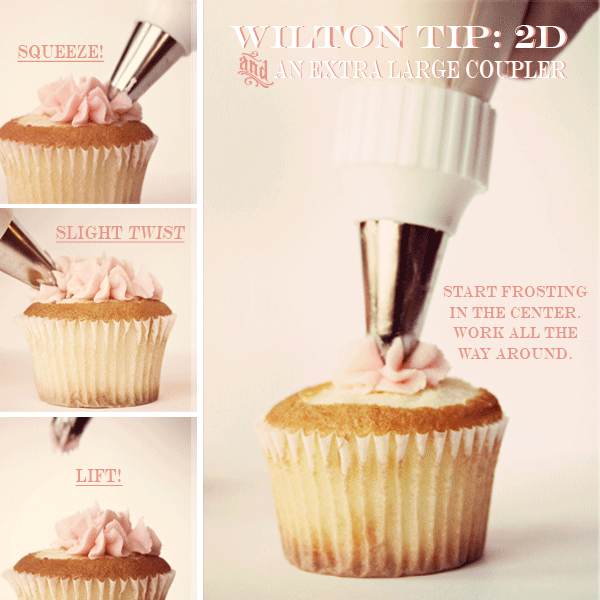 Step One: To begin, start with beautiful cupcakes, the correct tools, and fabulous frosting. See How to Perfectly Frost Cupcakes 101 for my tips on creating even cakes, good consistency frosting, and setting up your decorating bag. For this particular frosting technique, you will need a Wilton 2D tip, an extra large coupler. I used a 20″ canvas frosting bag.
Step Two: Beginning in the center of your cupcake, create one flower. To create your first flower: Squeeze, letting icing build up to make the flower, twist your wrist slighty, then stop squeezing. Lift your tip away.
Step Three: Continue technique all the way around your darling cupcake. (Squeeze, slight twist, and lift! Repeat.)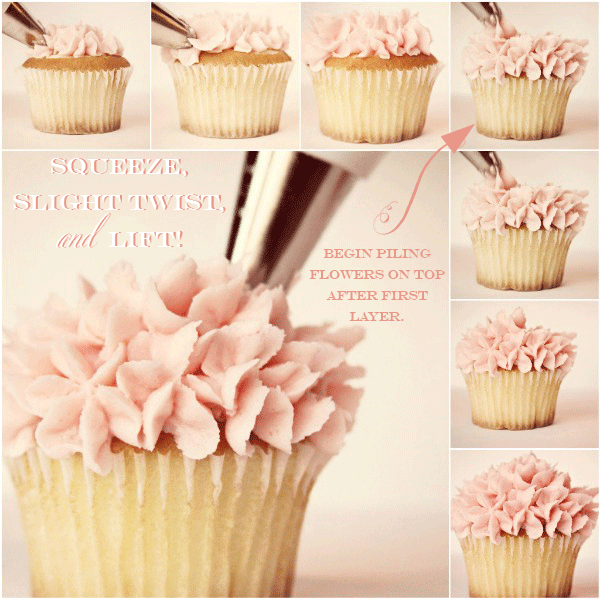 Step Four: Once you have made it once around your entire cupcake, continue the technique on top of the existing frosting flowers. Piling one on top of another to create height – similar to a dome.
Step Five: You are finished. You are fabulous. Add some bling.


Step Six: Enjoy!
Blog to you soon,

P.S. Above is a photo of a new item we are now offering, custom cupcake wrappers. Each wrapper is customized with event information and digitally pressed on heavy cardstock. My brides have been going crazy over them.