A few weeks back, we held my dear Ethan's 5th Birthday party.   We waited for the school year to begin, in order for all Ethan's swashbuckling scallywags to attend.  Since he had waited all summer, I knew we had to have a pirate party to remember.  I'll be honest, five years ago when I found out for sure that my first little child would be a boy – I worried endlessly about becoming a mother of the male species.  I came from a family of all girls and I love sparkles and shopping more than most people love their own children.  The whole G.I. Joe and Transformers bit scared me.  I didn't know if I could tap into the little boy psych.  But now two little boys, one princess, and a lot of prayer later – I do understand one key to raising little boys…or at least a small portion of it.  Give your little boys adventure and make them your hero. When my little boys feel like  heroes and are knee-deep in adventure – that's when they are the most content and I can't wipe the smile off their faces.   That's what I tried to do for Ethan's birthday.  I wanted him to be transported into a land of adventure where all him and his little friends couldn't be anything but five year old heroes.   Here a peek into the party!  Check out the bottom of the post for details and links to the event.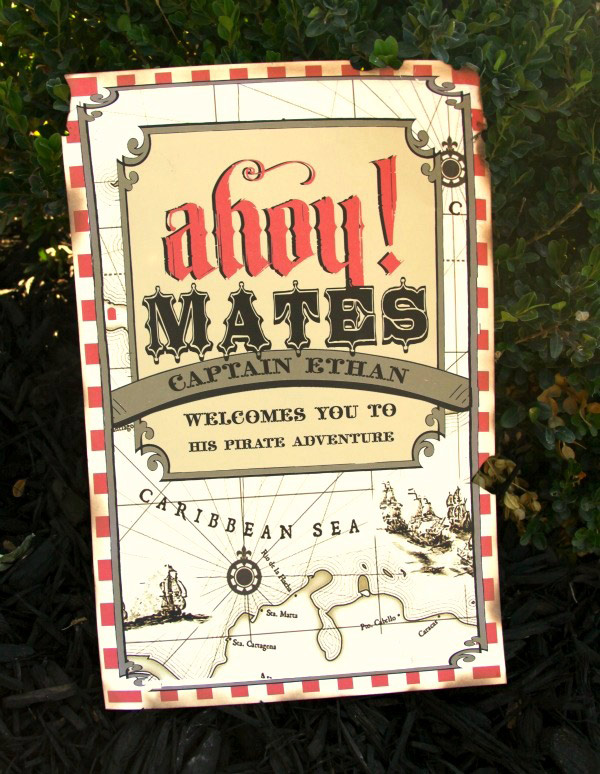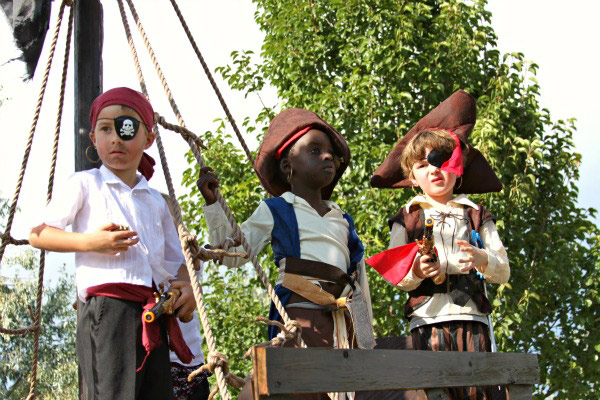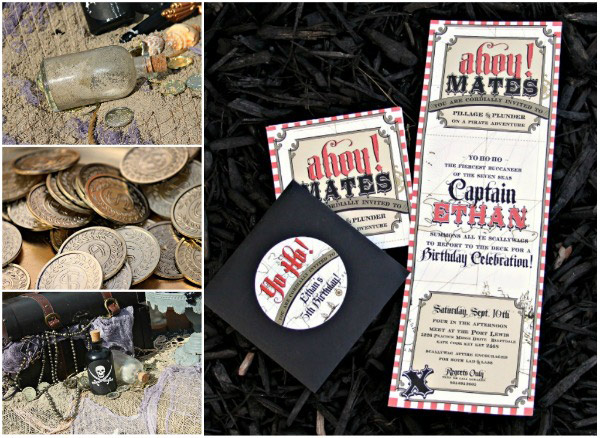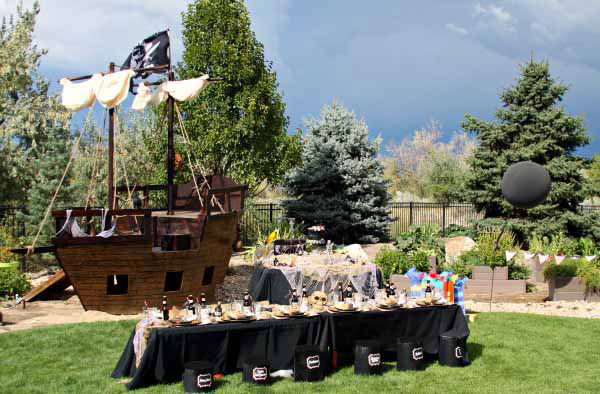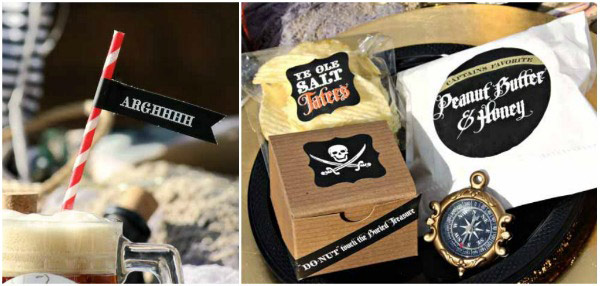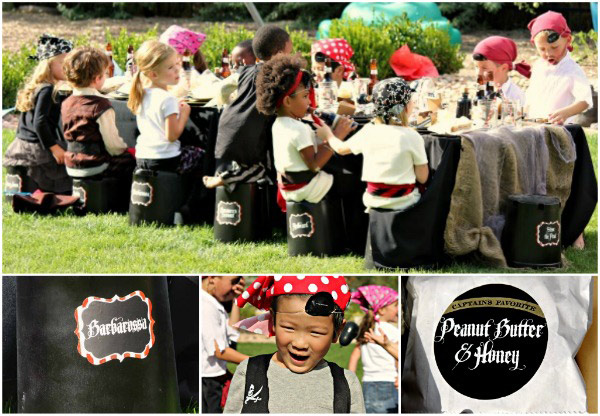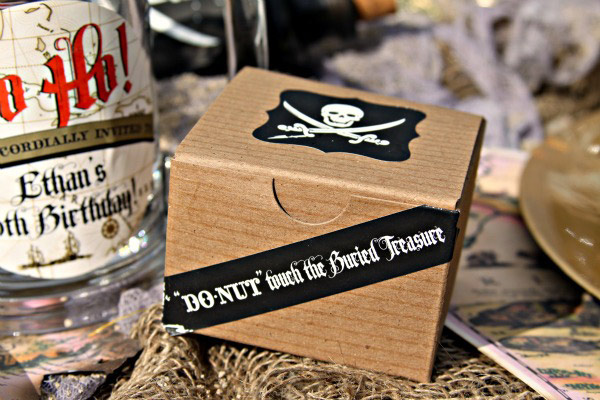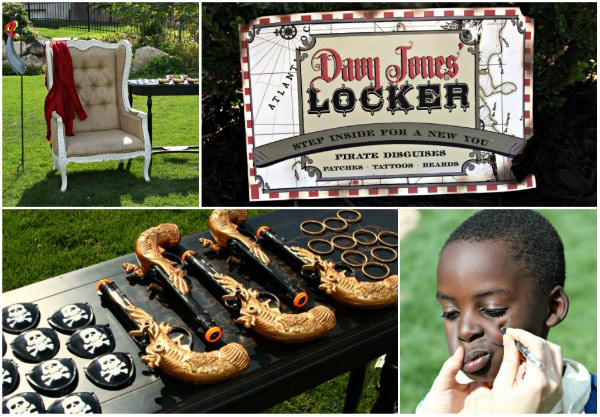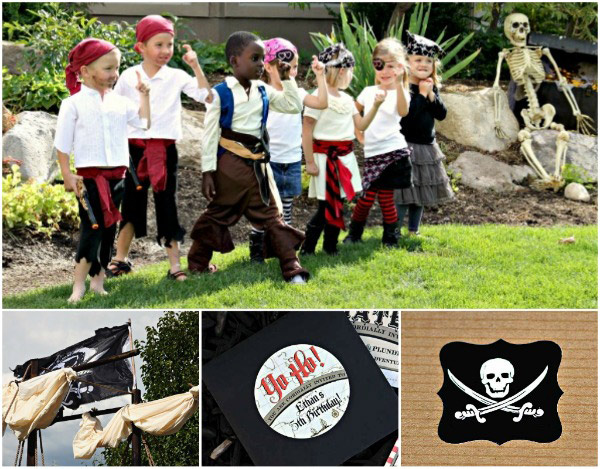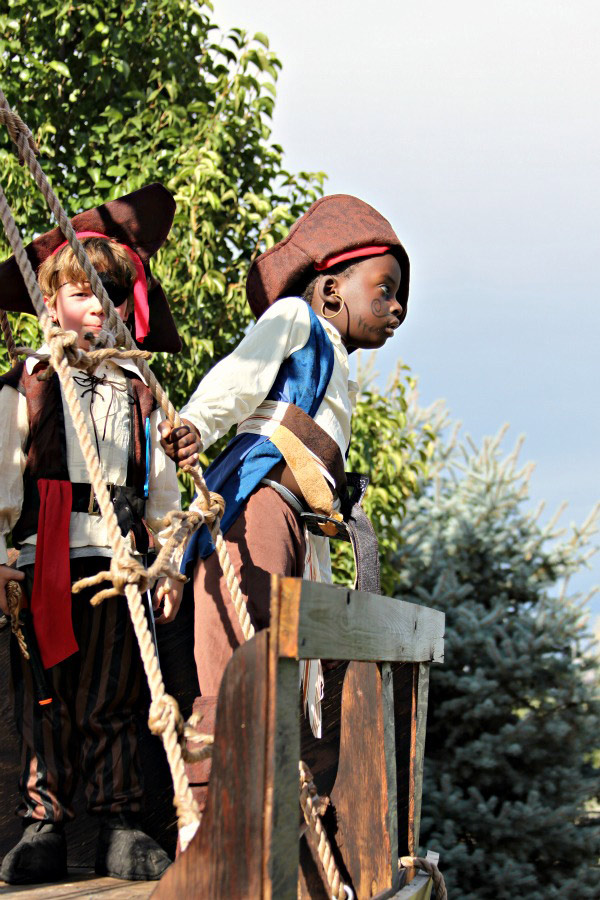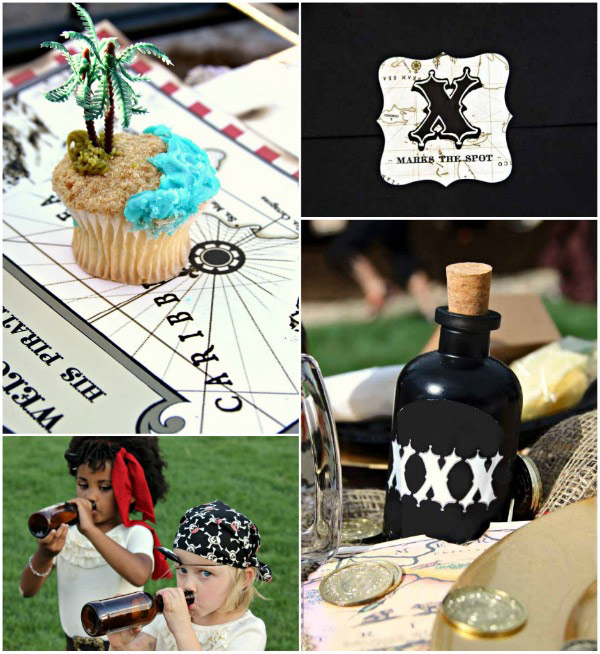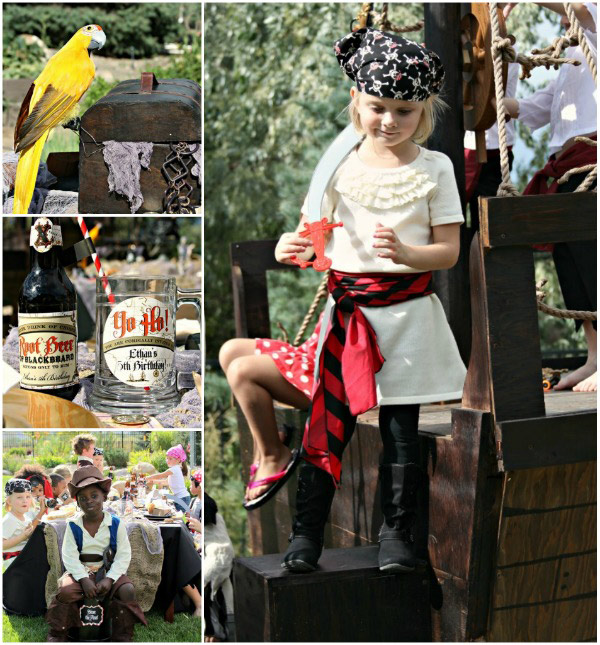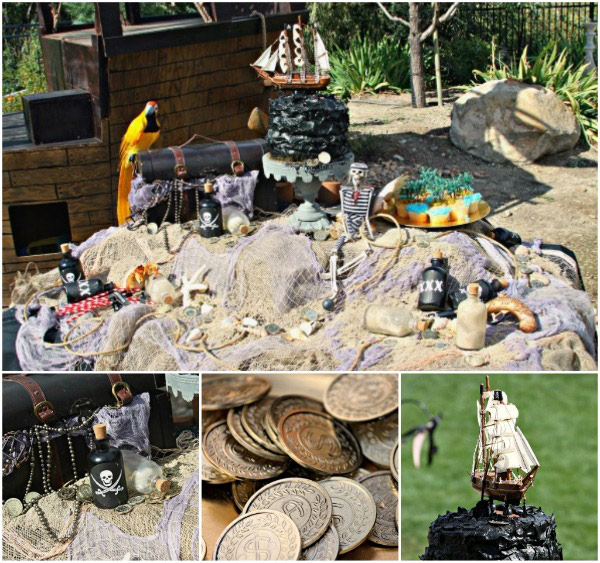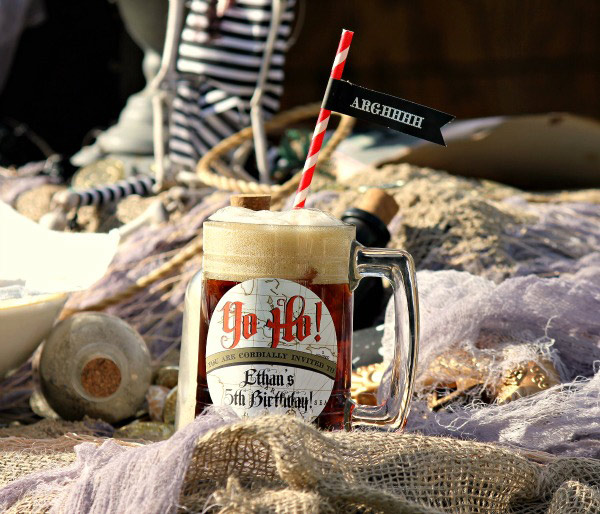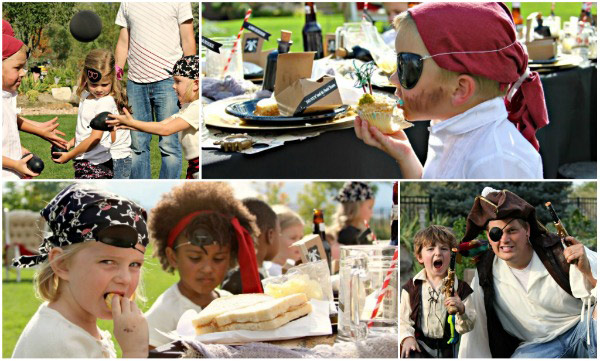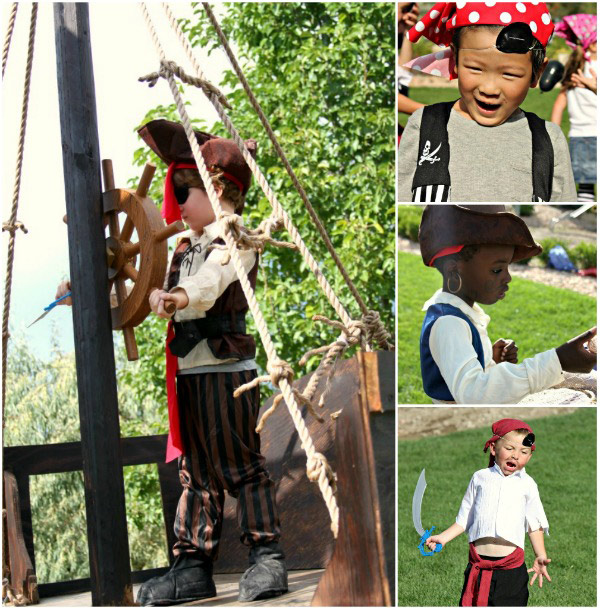 1) The magnificent imagineer and owner of Rhino Design Lab, John Christensen,  designed, created, and built Ethan's Pirate Ship Playhouse for me!  He does a ton of work for me  and my parties and I am never happier than when working with Rhino Design.  You can contact him at johnchristensen@gmail.com or through his newly opened Etsy shop Rhino Design Lab here.
2) As you probably know from my other parties, I am huge fan of pre-prepared servings at children's parties.  For Ethan's lunch I served his favorite, Peanut Butter and Honey sandwiches in prepackaged white bags with a label.  Along with Root Beer with personalized labels, potato chips with little stickers on them saying "Ye Ole Salted Taters" and a mini treasure box of tiny donuts with a little tag that said " 'Do-nut' eat the buried treasure."   Having  a place setting for each child made lunch simple – which I love.
3) I created a "Davy Jones' Locker" area where all the kids could step in to become a true pirate!  We had pirate scarves, fake tattoos, eye patches, pirate (water) pistols, and gold earrings.  I also drew fake mustaches and beards on all the kids with black eyeliner pencils. The kids loved getting all decked out for the party.
4) Games.   Of course, we had a treasure hunt!   A must at all pirate parties. I also  purchased round black water balloons and the kids loved playing toss the canon ball.  This was fun because they didn't get soaking wet in the early-fall weather, but still got a little splash which they enjoyed.   My brother-in-law dressed up like a pirate and basically stole the show with the kids.  They played "Tug-a-war with the Pirate" using a huge long hemp rope and also played "Follow The Pirate".  Very few children left without a photo with "Captain No Beard."
5) For placemats, I created 11X17 antiqued maps for each setting.  The kids then used these to find the hidden treasure!  I will be offering these in the shop shortly – as well as the other paper goods!   I "forced"  Mr. Lewis to antique all the signs, placemats, and posters.  I put "forced" in quotations because is it just me or does it take very little coaxing for husband's to do any honey-do list items that entail a blow torch?
6) For dessert, we had root beer floats for all the kids.  The buccaneers looked adorable toting around their huge mugs with root beer mustaches saying "Arrrgh!!" continually.  I now highly recommend root beer floats for every pirate party!
7) My best friend forever, Alison Daines, make all the tiny mini doughnuts for the buccaneer's lunch.  A special thank you to her!
Blog to you very soon,