Inside the most recent issue of Babiekins, I share
my daughter Vienna's, Princess & The Frog Birthday, along with my best tips
on creating a meaningful party for your little princess!
(See my tips at the bottom of this post!)
If you would like to see more photos and fun from
Vienna's event
click here! We had so much fun planning it together.
You can find all the fun of
Babiekins newest issue here!
Be sure to also check out the print issue at
Barnes & Noble,
Target, and Books a Million!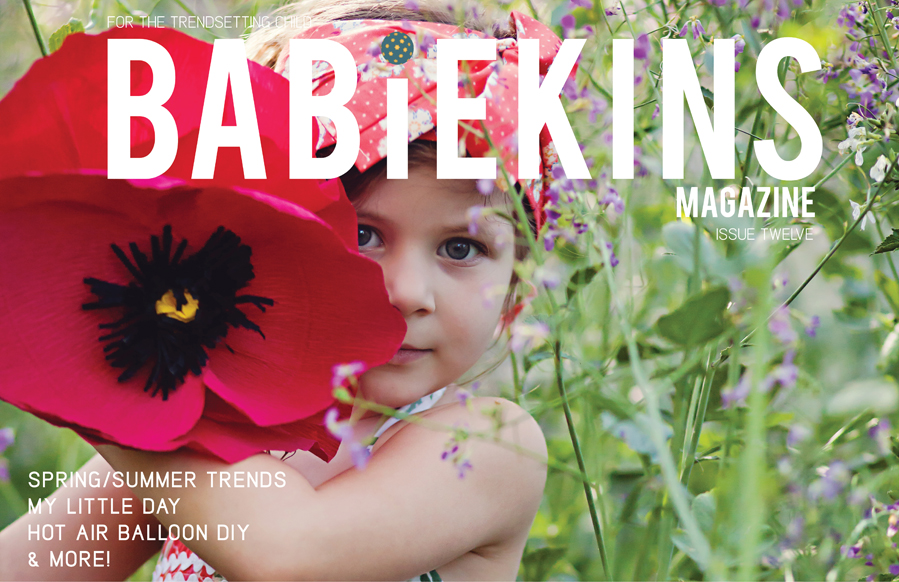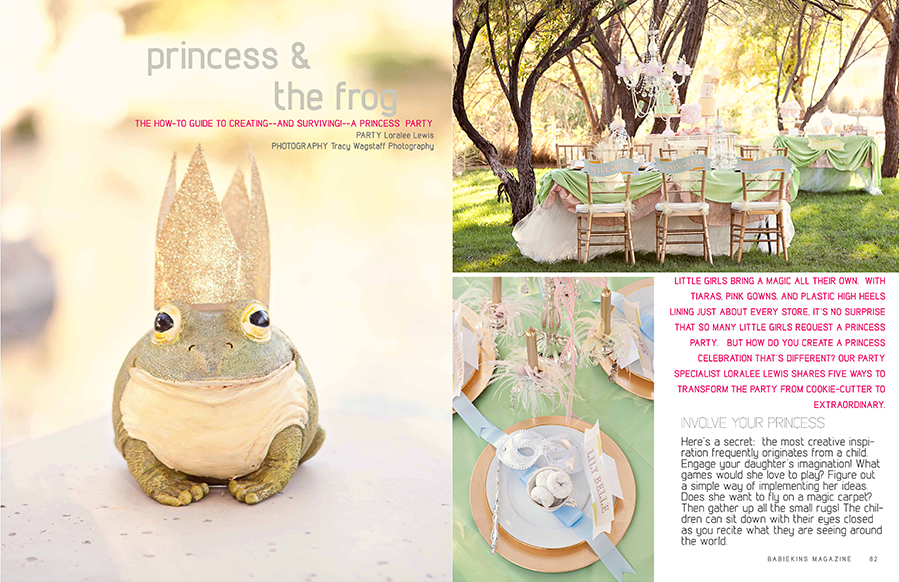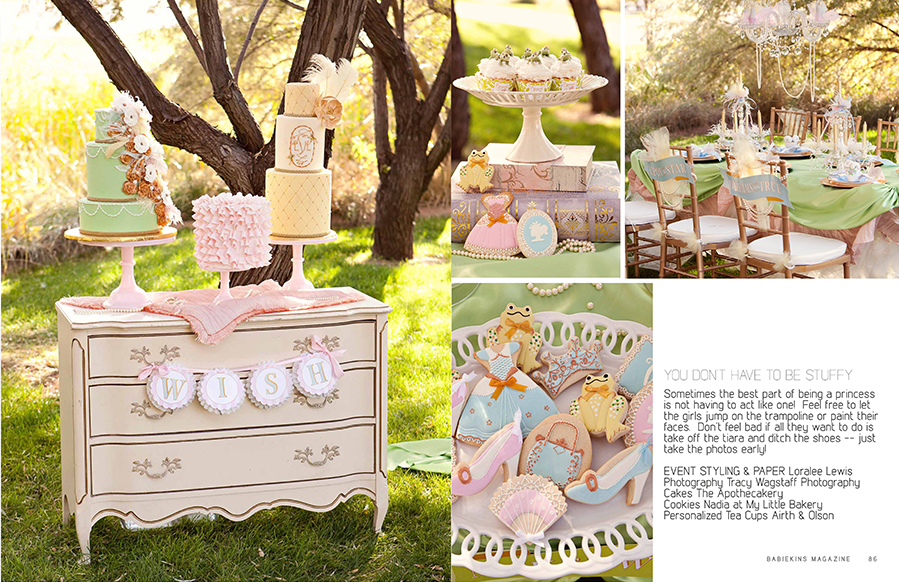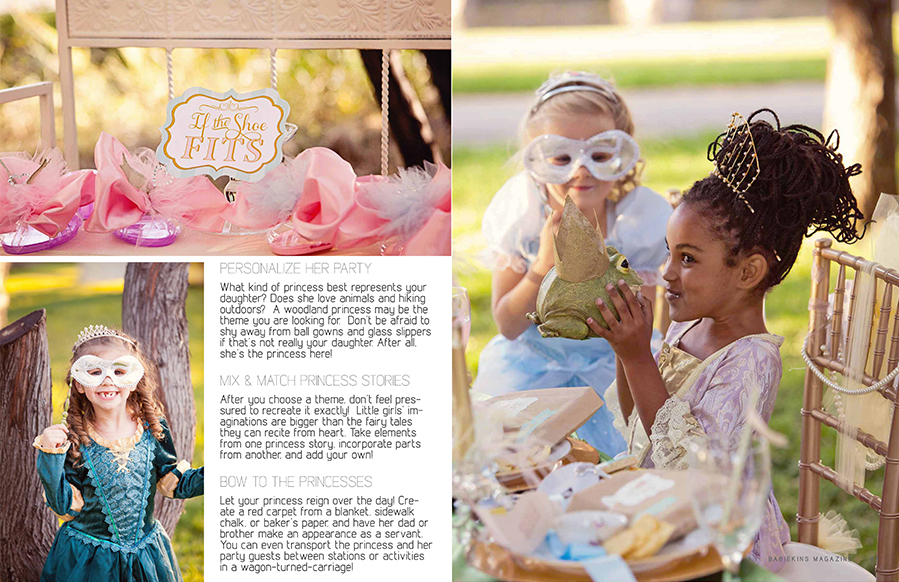 Every girl is a princess. Ask any parent with a daughter
and they will tell you – little girls bring a magic all their own. With tiaras,
pink gowns, and plastic high heels lining just about every store; it's no surprise
that so many little girls request a princess themed birthday. So how does a mom
create a one-of-a-kind event, with a party theme every girl at the elementary has
done already? Just ask our party specialist, Loralee Lewis. Here are her top five
tricks to taking an ordinary princess themed birthday to extraordinary.
1) Involve your princess in planning. Here's a secret:
the best source of inspiration isn't going to be on the latest party blog. The best
inspiration is sitting at your kitchen table! Tap your princess' imagination! Involve
your daughter in all the planning. Ask her what games she would love to play and
figure out a simple way of implementing them. If she mentions that she would love
to fly on a magic carpet like Jasmine, gather up all the bathroom rugs and have
her guests "fly around the world" with their eyes closed as you recite what they
are seeing in France, China, and Belgium! The most creative inspiration frequently
originates from a child. 2) Personalize her party. Ask yourself, what princess story
best represents my daughter? With seemingly hundreds of princess characters to pick
from, you and your daughter can be choosy as to what kind of party you are going
to create. If your little girl adores shoes and little mice, maybe a Cinderella
theme would be the best fit! Does your daughter have a strong sense adventure and
loves swimming? Perhaps, a Little Mermaid party would fit her personality. Does
she love animals and hiking outdoors? Pocahontas may be the unique princess theme
you are looking for. Don't be afraid of choosing a theme that isn't all ball gowns
and glass slippers. The most important thing is that it is 100% her! 3) Mix &
Match Princess Stories. After you figure out what main princess theme you are going
to run with, be aware that you don't have to be 100% loyal to it. Little girls'
imaginations are bigger than the fairy tales they can recite from heart. If your
daughter is 100% sold on a Sleeping Beauty party, but also adores Cinderella slippers,
there is no need to choose between the two. She can dress up as Aurora and you can
still have the Fairy Godmother turn her little brother into a coachman. 4) Bow to
the Princesses. Let your princess reign over the day. Use a blanket, sidewalk chalk,
or baker's paper to make a red carpet. Get a man or brother in her life to make
a humble appearance as a servant. Encourage her to wear all the bling she wants.
Make a carriage from a wagon to transport the princesses between stations or activities.
5) You Don't Have to be Stuffy. Sometimes the best part of being a princess is not
having to act like one! Feel free to let her and friends jump on the trampoline
or do some fun face paint. Don't feel bad if all they want to do is take off the
tiara and ditch the shoes with the bling. Depending on the ages of the girls, you
may only get them to wear what they're supposed to for a few minutes, so take the
photos early!
Event Styling & Paper by Loralee
Lewis Photography by Tracy
Wagstaff Photography Cakes by
The Apothecakery Cookies by
Nadia at My Little
Bakery Personalized Tea Cups by Airth & Olson