I have to confess.  I do live a wee bit vicariously through my clients.  Not that the Lewis Household isn't all red carpet and jewels.  I keep it pretty fabulous over here.   That being said, you can find an innumerable amount of Cheerios lying at the bottom of my handbag at any given time.  Case in point:  Yesterday I was taking my autumn handbags out of storage for the new season.  As I pulled the linen protective bag off of one of my very favorites, I opened it up to admire it a little more closely.  As I unzipped the bag, expecting to only see it's beautiful satin lining, I was greeted with a half-eaten Chicken McNugget that apparently had been placed inside pre-Spring.  🙂  Ladies, motherhood is the most beautiful thing in the world, but it's not always pretty.
On days when half-eaten chicken nuggets are popping up, it's refreshing for me to hear and work on celebrations going on around the world.  It always inspires me to throw one of my own and live my own life more glamorously.  In the case that you may enjoy it as much as I do, I thought I would write a post every once in awhile highlighting some of the events my clients are throwing.   *Some names have been changed and/or ommitted to keep anonymity of clients as requested.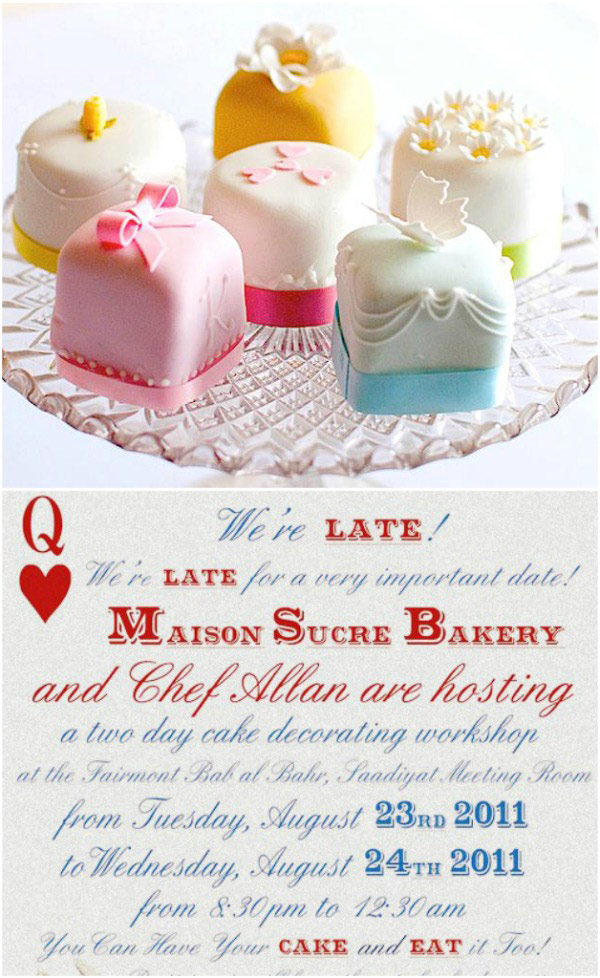 Client:  Maison Sucre
Event: Cake Decorating Workshop
Location: Abu Dahbi, United Arab Emirates
The upscale bakery, Maison Sucre located in Abu Dahbi, United Arab Emirates recently offered a two-day cake decorating class.  Ladies, it was fancy.  Nadine, the owner of Maison Sucre,  contacted me to create  invitations, announcements, and all the coordinating details for the workshop.  They ran with a whimsical Alice in Wonderland theme.  I can't tell you how much I wish I could have been there!  I was seriously thinking of just purchasing a ticket to Abu Dahbi (and despite, what you think it had little to do with the shopping I have accomplished there in the past.)   As I designed personalized water-bottle labels for each participant (with names I couldn't even begin to pronounce), I couldn't help but be thrilled knowing that no matter how far a part we live – women all over the world are intimately the same.   Each participant left not only by being trained by world-famous chefs, but their very own set of cake decorating tools and desserts designed by themselves over the course!  How fabulous, is that? Who wants to buy a ticket with me for next year's workshop?  (Ladies,  I am so serious.  You have no idea.) Above are some of the delicious treats created at Maison Sucre and a snippet of the announcement I designed.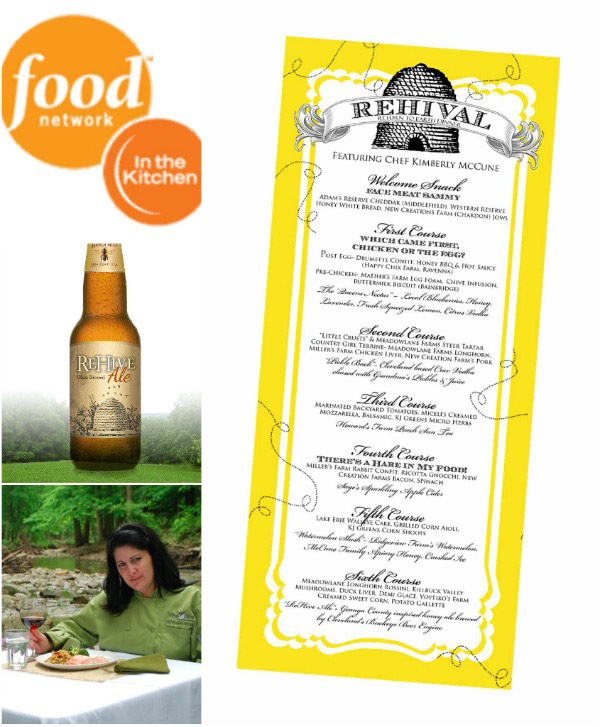 Client: Chef Kimberly McCune and Emerging Chefs
Event: Re-Hival Return to Earth Dinner
Location: Meadow Lane Farms, Ohio
This past August,  Chef Kimberly McCune was chosen out of hundreds of chefs throughout the nation by Emerging Chefs to create an unforgettable event to spotlight her talent.  With big names like, Martha Stewart Living Magazine and The Food Network in attendance, this 200+ dinner was no small-town affair.   The daughter of a bee-keeper, Chef McCune created a  local honey predominant theme for the evening, and everything served was sourced within 50 miles of Meadowlane Farms.  Kimberly is possibly the sweetest and most humble person I have ever worked with.  Which was so refreshing as she works on movie sets with HUGE HUGE names and is shortly going to be seen on The Food Network…and I am a mom with chicken nuggets in her purse.  🙂  I created custom menus, custom honey labels, custom sandwhich bags, and straws with custom pennants for her event.  Check out the below video to catch the fabulous vibe of the Re-Hival Pasture to Plate Return to Earth Dinner.
ReHival™ > Event Highlights from Emerging Chefs on Vimeo.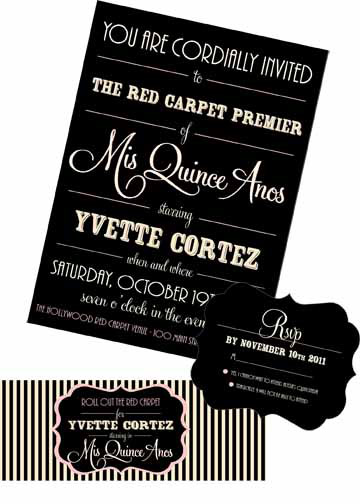 Client: Center of Attention Events, CEO Michele Fox
Event: Old Hollywood Quinceañera
Location: Hollywood
With Sharon and Ozzy Osbourne's Wedding Renewal AND Shante and Snoop Dogg's Wedding Renewal AND Moon Unit Zappa and Matchbox 20 's Paul Ducette Wedding under her belt there is little Michele Fox can do wrong in my book.  So when she contacted me to collaborate with her on a big named "not-to-be-named-daughter's" Quinceañera.  I calmly freaked out and then raided the Halloween Candy I hid "for the kids" to calm my nerves.  I'll be honest, receiving the names on the guestlist didn't help.  I may not have tweens, but I'm not oblivous to young Hollywood.  I know Beliebers.   This Old Hollywood inspried event, has yet to take place, and I am not giving out any details, but above is a sneak peek (names and dates changed) of the Old Hollywood Invitation suite I created for the event.  If I am allowed, more details will come. You know they will.
Blog to you soon,