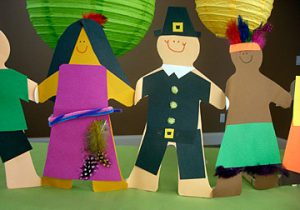 One of the wonderful things about Thanksgiving is gathering your loved ones around you. There are many different ways to celebrate Thanksgiving. Some may roast their turkey and others deep fry. Some will gather around the television watching football and others will watch the Thanksgiving parade. This Thanksgiving table is all about gathering everyone together no matter what differences there are among you. This table is fabulous and the extra bit of fuss that you will do preparing for it is worth it once the family sits down to appreciate one another's art work.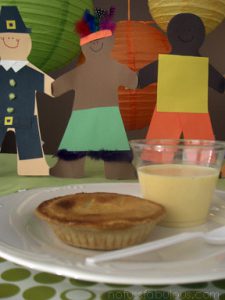 The first part of this table is an activity and can be done the morning of Thanksgiving with the children and non-cooks of the household or can be done a day before Thanksgiving.
Start by gathering the following supplies: markers or crayons, scissors, construction paper, shapes cut out of the construction paper for children too small to use scissors, feathers, clothespins, glue sticks and Roylco Paper Doll Pad. Roylco's Paper Doll Pad has multiple shades of paper dolls already cut out and ready for you to dress in Thanksgiving apparel!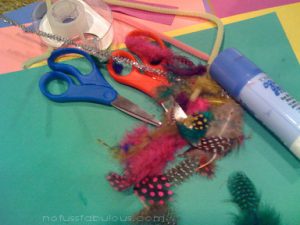 Set out all the supplies on the table. Allow everyone to choose which doll they would like to make. Then explain that these paper people are going to be attending your family's Thanksgiving feast! But you need to get them ready for dinner by dressing them and making their faces. You will enjoy seeing what unique people will be created! Help smaller children by gluing the back of the pre-cut shapes and allowing them stick each shape onto the doll.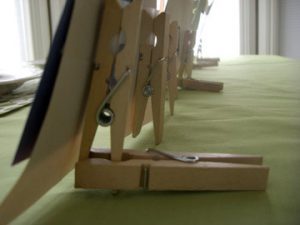 Once all the dolls are assembled, tape their hands and feet together like they are holding hands. Then use clothespins attached to the back of the dolls (see photo below) to help the dolls stand up in a line like a garland across your Thanksgiving table. Hang Chinese lanterns from above. We used a fun modern polka dot printed scrapbook paper for the placemats.
For dessert we used mini pies from Walmart and drinks with half eggnog and Diet Sprite.
As you gather around your Thanksgiving table, before eating join hands and have everyone voice something they are thankful for.
Here are our other Thanksgiving ideas:
Easy as Pre-Ordered Pie!
Display Your Gratitude Banner
Nuts About Thanksgiving Activities and Kids' Table
Nuts About Thanksgiving Gingerbread
Color Little Hands Thanksgiving Table
Gobble 'em Up Thanksgiving Cupcakes
Gourmet Cinnamon Chocolate Caramel Apples