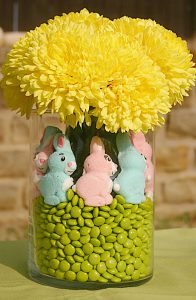 Spring has officially sprung and it's time to kick-off No Fuss Fabulous' Easter Eggs-travaganza! (If you haven't noticed I'm slightly obsessed with puns. Annie hates it. I love it.) The next few weeks will be filled with Easter crafts, table scapes, activities, and (of course) scrumptious goodies!
A goal of Annie & I's is to keep No Fuss Fabulous filled with ideas simple enough that even small children can create them with family. Easter should be family-focused. The holiday embraces all that we hold dear: religion, family, and friends. Keep that in mind as you embark upon all your holiday planning.
This Easter-scape candy vase is perfect for your kitchen table! Kids of all ages would love to create an individual design with candy. Multiple vases of different sizes would be adorable as well on your table while letting each child display their artistic genius!
Here's how to make it:
1. Insert a small vase inside a larger one, with about 1/2″ space between the sides of the vases.
2. Line glass vases with green M&Ms first by dropping the candy into the space between the vases. You could also easily use jelly beans, Easter candy corns, or any other small candy! Anything festive.


3. Once your M&Ms are evenly proportioned in your vase, slide your Marshmallow bunnies in between.
Note: I found these Marshmallow bunnies at Walmart for one dollar. Peeps would also work or even small chocolate bunnies!


4. Fill smaller vase with water and a spring bouquet of your choice!
5. Congratulate yourself for being so fabulous.
Want more Eater fabulous-ness? Click below for more No Fuss Fabulous ideas.
Easter Place Card Robin Nests
Growing Easter Traditions with Small Sprouts
Easy Coconut Macaroon Easter Nests