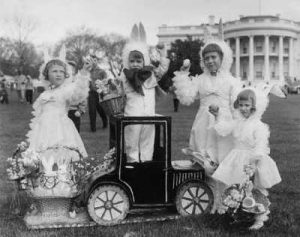 The Annual White House Easter Egg Roll has occurred since the 1870s. Take a look at this awesome vintage photo!  I've always loved watching the Easter Egg Roll on television, but I have never participated in an egg roll myself.  I decided that if I can't make it to D.C. this Easter, why not have one at home?!
An Easter Egg Roll event would be a fun and easy way to entertain this Easter!  It is such fun to see kids and adults in their Easter best bending over to spoon an egg to roll across the grass. It is fun and simple – as long as the weather cooperates!
You can set up multiple races with different age groups and obstacles.  Mix it up with three legged or wheelbarrow style rolls!
What do you need? Just
spoons, dyed boiled eggs, prizes and maybe a fun dessert to celebrate the winners.  Our invite is just a vintage floral spoon from a thrift store with this free egg shaped printable invite tied to it.
Many of the White House's participants wear bunny ears; so if you are feeling festive make or break out the long ears!
Don't forget pictures! It is so picturesque to see everyone in their Easter best on the green grass.
Want more Eater fabulous-ness? Click below for more No Fuss Fabulous ideas.
Easter Place Card Robin Nests
Growing Easter Traditions with Small Sprouts
Easter-scape Candy Vase
The Easter Bunny "Carrots" for Your Health
Easy Coconut Macaroon Easter Nests