This year I am hosting an Easter Brunch at my house for dear friends! And as much as I love dyed eggs (especially when they are sparkly), you never want to toss all your eggs in last year's basket. To keep things fresh, I wanted to go with au natural inspiration for my table this Easter. Turning to nature, I came up with these easy little Robin nests for place card holders. They are the perfect solution for both a children's table, as well as so-called "grown-ups". Dress them up or dress them down, it's up to you how much ruffle you want to get in your feathers!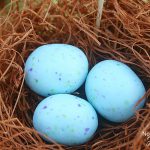 Here is what you need to make the nest:
Candy Robin Eggs
Decorative Excelsior Moss
I purchased the Robin eggs at Walmart for less than a dollar and the Excelsior at Michael's for 1.99! As I am typing this low cost information, I am realizing that maybe I do "deserve" that Godiva Enchanted Easter Basket after all! Is it ethical to serve your guests Walmart candy while you dine on Godiva behind their backs?!? Hmmm… okay, back to the nests.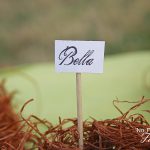 Here's how to make the nests:
1) Simply form the Excelsior moss into the desired size of nests with your hands. I made my nests about 3.5″ all around. Do not worry about making the nests perfect. Nature is imperfectly beautiful.

2) Place three Robin Eggs inside of each nest.
3) Print your guest names on cardstock.
4) Cut out names and tape them to back of toothpicks.
5) Place toothpicks into nests! The moss will hold it in place.
Want more Eater fabulous-ness? Click below for more No Fuss Fabulous ideas.
Growing Easter Traditions with Small Sprouts
Easter-scape Candy Vase
Easy Coconut Macaroon Easter Nests