During this busy time of year, I think every woman needs to make time for girlfriends. I held a Christmas Cookies with the Chicas event last night. I invited friends from church and we just sat, talked, and ate homemade cookies! Only four ladies were able to attend due to the craziness of the season, but it was almost better that way because I was able to take the time and really chat with my ladies. I gave these little pint sized cookie jars as favors.  Give your girlfriends the gift of no fuss Christmas cookies. Make a few of these for your favorite girlfriends and take some time for girlchat.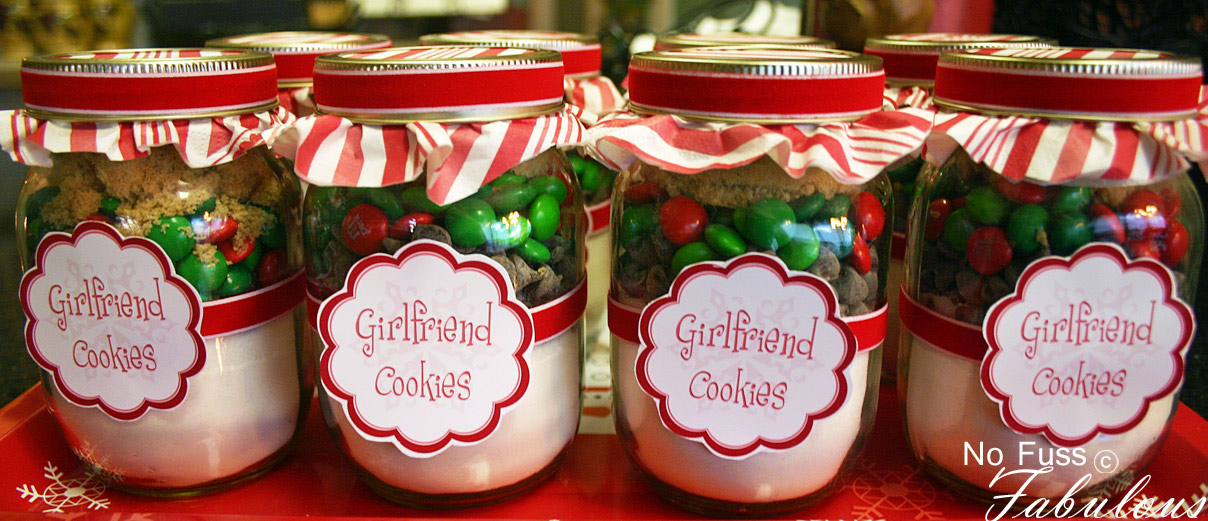 Most cookies-in-a-jar recipes are made for quart-sized mason jars. I made several changes to Allrecipes.com Julia's Best Ever Chocolate Chip Cookies In A Jar recipe in order for it to fit a pint-sized mason jar,  include festive M&Ms, and keep the dry ingredients separate from the chocolate chips. I like the pint-sized jars better because I think they are more appropriate size for a favor and they make only six to eight cookies which I feel is a good proportion for two to three people to share! You can find the original recipe for quart size  here.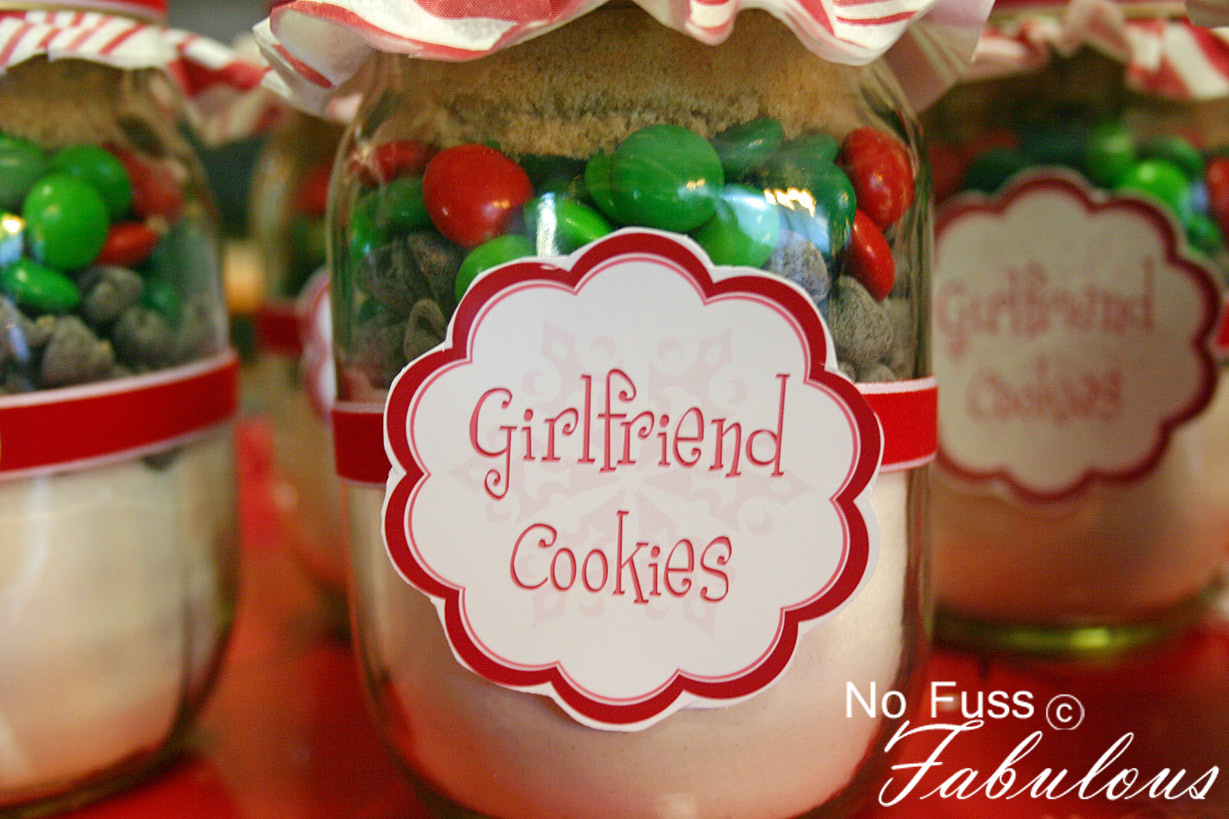 Dry Ingredients to pack in pint mason jar:
3/4 cup and 1 tablespoon and 1 teaspoon all-purpose flour
1/4 teaspoon baking soda
1/4 cup white sugar
1/2 cup semisweet chocolate chips
1/2 cup Christmas M&Ms
1/4 cup packed brown sugar
Directions: Combine the flour and baking soda. Place flour and soda mixture in a clean pint sized glass jar, and pack firmly. *See NFF Tip below!  Place sugar on top.  Pack firmly.  Layer with chocolate chips and M&Ms.  Place the brown sugar on top, again packing firmly. Cover with a lid.
Attach an index card with the following directions: Empty contents of jar into a large bowl. In separate bowl combine 1/4 cup plus 2 Tablespoons of butter, 1 egg and 1/2 teaspoon vanilla. Beat until creamy. Add to dry mixture.  Drop by tablespoonful onto an ungreased cookie sheet, and bake in a preheated 375 degrees  for 6 to 10 minutes.
NFF Tip:  The best way I have found to keep the flour from getting all over your clean mason jar is to simply cut a large tip into a disposable decorating bag (a large plastic Ziploc would work as well), place the cut bag into your mason jar and use it as a funnel for your dry ingredients.  This keeps the sides of your jar crystal clean and will give you the clear layered look you want.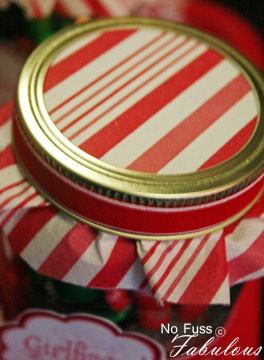 Using festive napkins or fabric, add a little holiday cheer to your Christmas jars by screwing on a small square to the top of the jar. I used Martha Stewart Christmas napkins – I know… I know… nothing is too good for my girlfriends! I then place ribbons around the jar lid and around the center of each jar.  I then added a  Girlfriend Cookies tag.   I'll be making the Girlfriend Cookies tag printable available for free download tonight!  Come back and it will be here!  in the meantime, make some girl time! 
HERE IT IS! Click here for the free tag!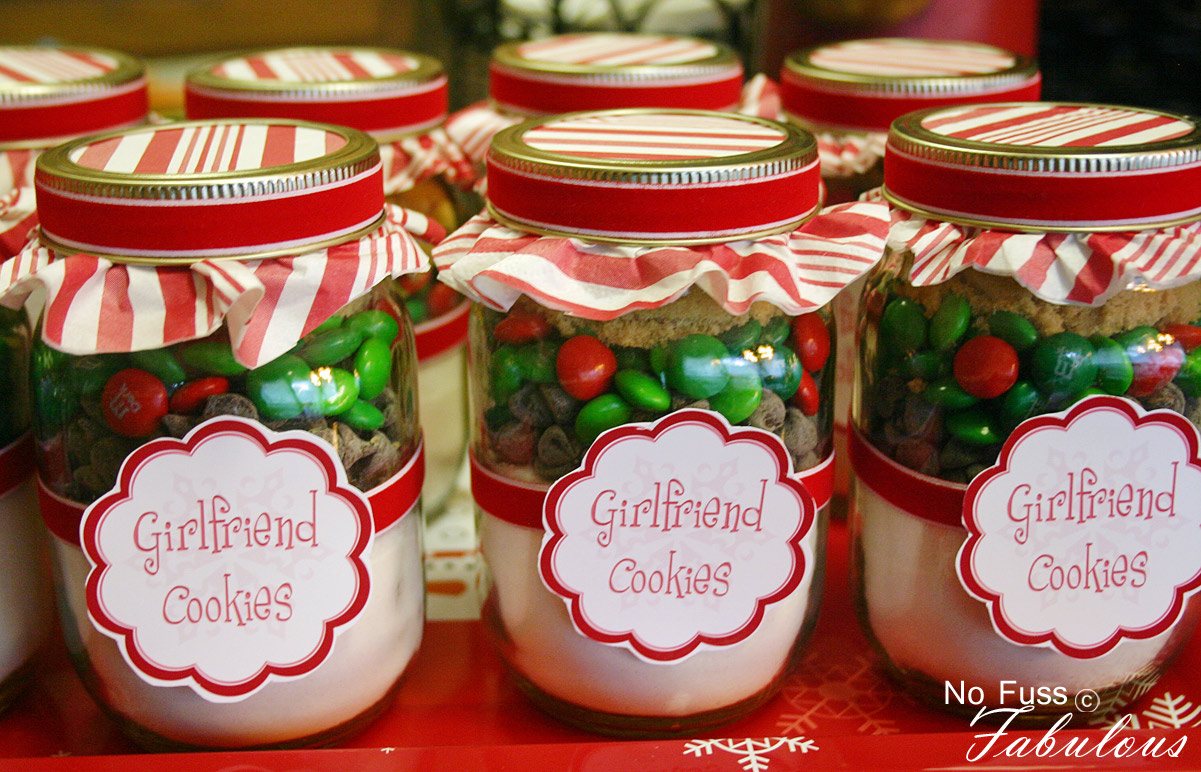 Blog to you soon,