When Ann Blevins of  Better Homes and Gardens  asked me to create a Halloween Party for their 2014 Halloween Tricks and Treats Magazine, I quickly agreed and gave myself two goals for the shoot.  1) Give readers do-able inspiration.  Have you ever saw a DIY project in a magazine and instantly knew you could never do it.   I wanted the spread I put together to be something that readers would enjoy and could pull off at home easily.  2) Have fun. This goal was a little too easy to keep. I flew in my BFF (the fabulous Alison Daines), we ate a ton of Halloween candy, had our makeup done, and decorated until midnight!    In addition, unlike the stereotype one would think a high powered editor-in-chief,  Ann Blevins and her team were not only sweet (they pretended not to notice my loads of laundry and four children dangling from the banisters), but hilariously down to earth as well.   If I had been nervous, the moment they rang the doorbell all stress fell away.  But going back to having fun and keeping things simple, one of my company (and personal) beliefs is that entertaining should be easy…and enjoyed.  This is why I try to create products that bring events together beautifully and simply.  With each event I do for my company (or my personal life), I try to live this principle.  I do believe in being thoughtful to create a special experience for guests, but I truly DO NOT believe that general family events (birthdays, children's parties, etc.) should take months to plan…and they should definitely NOT end in the hostess losing her hair, bank account, and/or desire to ever entertain again.  Complimentary to this goal, you can download all of the designs I created for the shoot at www.bhg.com/bewitching.

Here is a peek into the shoot, along with my 10 top tips and resources to creating a memorable Halloween Party.  Again, you can download all of the designs I created for the shoot at www.bhg.com/bewitching.   If you haven't already purchased the magazine, you really should.  The other designers featured in the magazine, specifically John Coulter, AndersRuff, and Andrea Hanki, will blow you away with their creativity.   You can find it at almost all supermarkets and bookstores. 
1) Don't be afraid to dress up.  "Groan-ups" like to have fun too!  Don't be afraid to ask your guests to come in costume.  Costumes are an instant conversation-starter.  The costumes featured in this shoot, were provided by the amazing Mandy and Chris of Koko Blush and Company and Victorian Choice.
2) It's all in the details.  Details are important.  We've all seen pumpkins on doorsteps.  To give it a new twist,  I chose mismatching multi-colored pumpkins and stacked them on top of a nest of sticks.  I took paint buckets covered with burlap and filled them with sticks to give my porch a non-formal spooky feel.  I glued hand calligraphy notes by the talented Holly Owens of Owens Quill  with eerie addresses (Zelda Wolf from Skeleton Creek, anyone?!) onto a dozen crows to give the illusion they were bringing the RSVPs and other correspondence to our Witch's wicked gathering.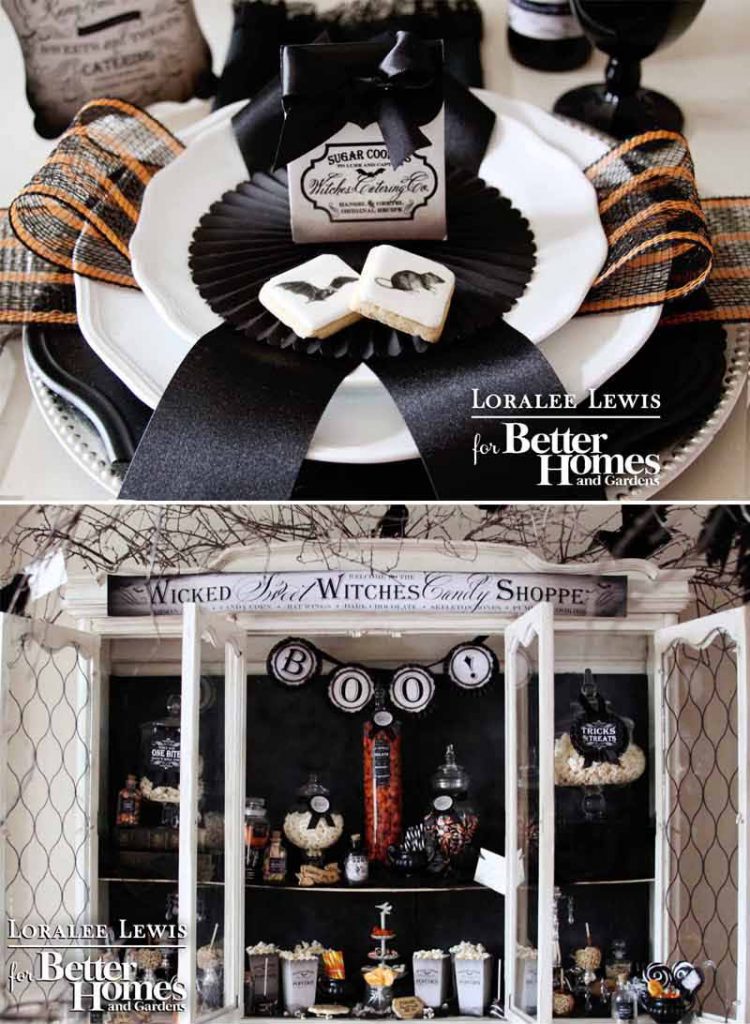 3) Amuse your guests.   I like to keep my clients and guests interested in the party with small details.  The favor box I designed (photographed above) reads: Sugar Cookies to Lure and Capture – Witches Catering Co. – Hansel and Gretel Original Recipe."  You can download the box here.  I filled the favor boxes with tiny cookies decorated with wickedly adorable wafer papers from The Cookie Pixie.   The Cookie Pixie offers an array of rats, skulls, bats, and spiders.  These small details keep your guests chuckling to themselves and make the atmosphere light and fun.  My popcorn boxes (a few photographs below) read: "Wickedly Fresh – Witches Catering Co. – Straight from the Cauldron – Popcorn – Hansel and Gretel Original Recipe –  No Preservatives – Beware! May contain nuts and Bones."


4) Don't be scared of a budget.   I am a firm believer that decorating and entertaining doesn't have to be expensive.  To keep costs low, I have a few tricks.  Apothecary jars are extremely popular right now.  Especially, the large ones.  I choose one or two specialty treats that are more pricey (for example, French macarons or the old-fashion licorice twists photographed above) and place them in the smallest jars.  In my largest jars, I fill with less expensive items such as: popcorn, flavored marshmallows, candy corn. You still will get the full specialty candy-buffet look without spending 400 dollars at a specialty bakery.  Another trick I have is to keep guests favors in check.  (A general rule: The smaller the party the bigger the favor you can give your guests.  The larger the party, the smaller the favor.)   I purposely have designed all my favor boxes not to be too large.  The favor box photographed above holds two truffles to not break your budget … or your guests diet!    If you are serving dinner to your guests this holiday, think about soup.  Even the most luxurious soups are rarely as expensive as main courses.  You can download the menu I designed at: www.bhg.com/bewitching


5) Upcyle.   Old Halloween costumes often make the best décor.  Below I took four sets of black angel wings, I had from years before and used them as chair backers for my dinner table.   Does your daughter no longer fit into her toddler witch boots?  Hang them up and make them your new favorite Halloween decoration.  This works for children's rooms décor as well.  Your daughter's Halloween costume tiara or glass slipper may be a perfect book end.
 


6) Have a memorable centerpiece.   Whether it is on the table or up above (as shown in the photo below), it's always fun to have a memorable centerpiece that will get your guests talking.  I decked out my chandelier with sticks from my garden,  feathers, and ravens to create a crow's nest above my guests heads.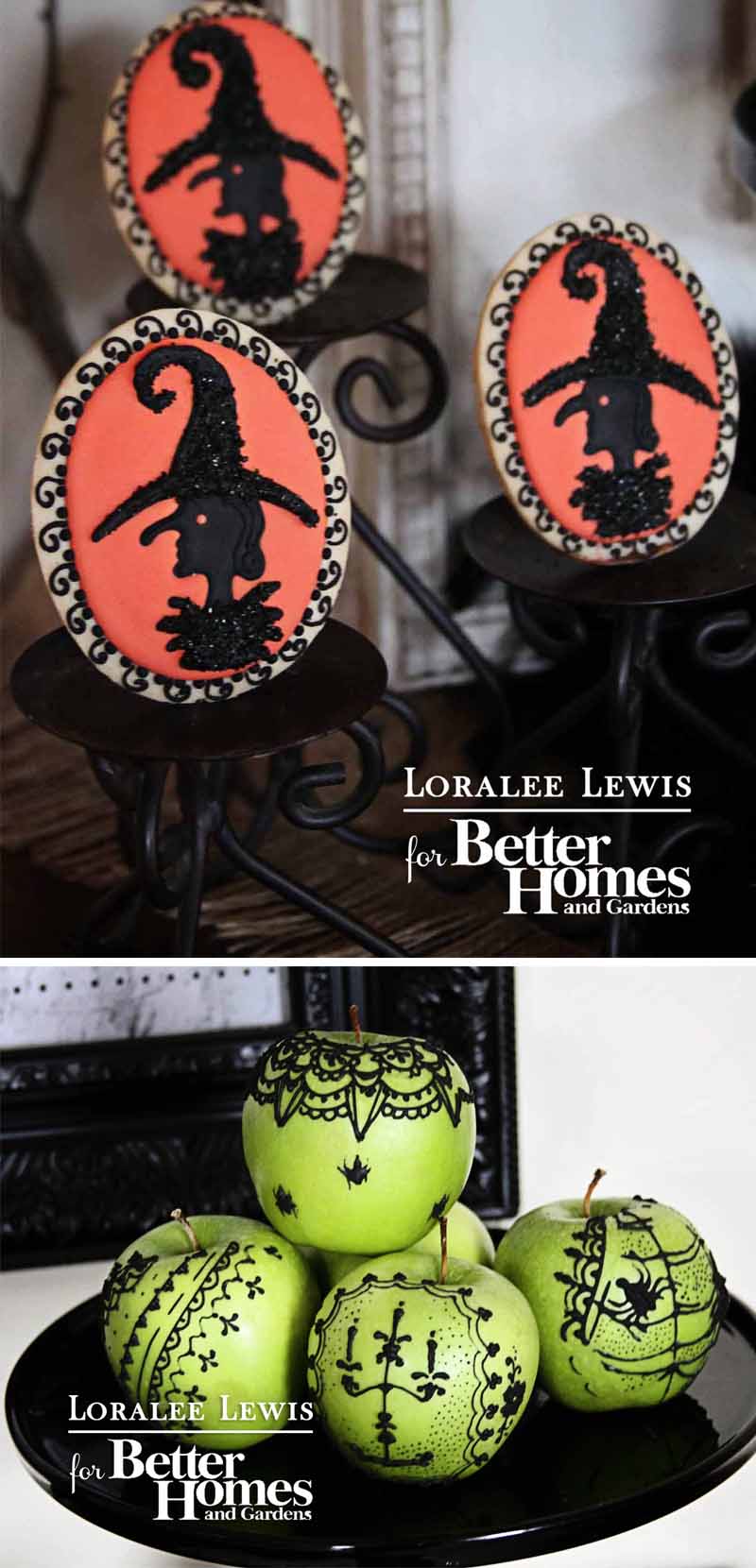 7) Do spend on high sensory items.  I believe that a well-planned event will touch all your guests senses – touch, taste, smell, hear, see.   An event is just not about how the table looks.  It's how the food tastes, the ambiance and aroma the guests experience when they walk in and throughout the night.   Items that heighten these experiences are worth spending money on.   Well-designed paper is obviously one of the items I feel is a high-sensory item that brings a lot of fun to an event.  Beautifully made specialty cookies and dessert items also make it on my list.  I had specialty Ruffle Cakes made by the talented Betheny Whitman-Tomseth of The Apothecakery. She makes the most gorgeous cakes.   Potion Label cookies made by Lizy B's Bake Shop .  They were stunning.   As well as the breath-taking beautiful goodies above, skeleton and witch cookies and decorated apples created by My Little Bakery.
8) Make non-permanent changes to your home décor.  Most of your guests will be family and friends.  They have been to your home before.  Capture their interest and add surprise to your event by adding little non-permanent changes to your original furniture and/or décor.  With the help of my dear talented friend, Rebecca Heinrich (if you are not following her already on Pinterest, you may want to start now), we created temporary seat covers using burlap and an iron on transfer.  You can find the iron on transfer at www.bhg.com/bewitching  Another non-permanent change I did was to my  hutch that we utilized as the Wickedly Sweet Witches Sweet Shoppe (aka the candy buffet).  Originally, the hutch is plain cream.  To add dimension (and as a surprise for my guests who know my home all to well), I painted a board with chalkboard paint and placed it inside.  This made all the candy and desserts pop and was better suited for the season than an all white hutch.


9) Say No to Gore and Yes to Décor.  Above all else, a hostess' job is to make her guests feel comfortable.  You never want to make your guest's stomach squirm or make them feel a chill – which can be especially daunting when throwing a Halloween party.  (We have all seen those all-too-real Halloween foods on Pinterest.  Let's be honest, just because you pinned it doesn't mean your girlfriends would actually eat it at a Halloween party.)   Be careful about your décor.  You don't want to literally scare your guests, especially if you are inviting small ones.  I love to decorate for Halloween with whimsical details, but nothing gory.  These pillows I designed with the amazingly talented Monmell Designs are perfect.   Monmell truly has the best selection of burlap and cotton to hand-craft the pillows Check out their entire line of one-of-a-kind pillows here.  I am also happy to announce that I will be debuting more Loralee Lewis for Monmell Design pillows early next year.  Working with these two talented ladies is beyond a privilege. 


10) Tricks and Treats are just not for kids.  I know everyone hates a baby shower game, but there is a reason why we all end up playing them.  Guests need things to do besides talk and eat.  A Pumpkin Carving contest (above) or Cackling Contest (below) are a perfect solution at a Halloween event.   Again, I utilized the talents of my favorite Calligrapher and dear friend, Holly Owens of Owens Quill to decorate my chalkboard for "The Salem Witch County's Pumpkin Carving Contest".   To peak guests interests, I threw a large pumpkin in the middle of the table, raided my knife drawer, and designed a sign instructing guests to "Choose a Weapon."  (You can find the download here.)


Bonus Tip:  Bring home a Memory.  Make sure your guests do not leave without something to remember the night by.  A photo or memento is perfect.  I placed a dressed-up skeleton behind a vintage camera (complete with a "Smile for the Birdie" sign in his hand and a crow on his shoulder), and placed a large "Photo BOO-th" to the side.  For the photo backdrop, I printed skeleton cameos in black and white and placed them in old frames I spray painted black.  I then took a vintage settee and an array of beautiful props provided by the ever talented Darla Reber and placed it in the center.  (A very dressed-up diva skeleton kicking up her heels completed the look.   See below.)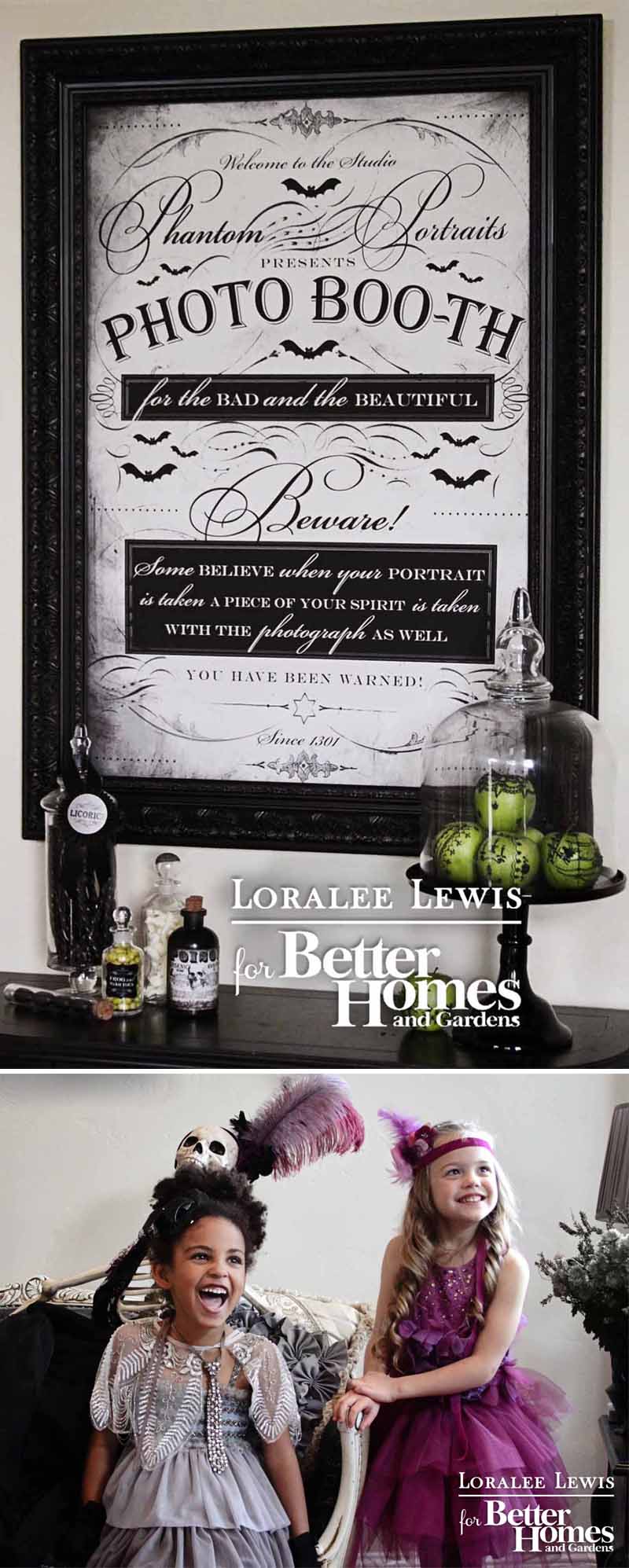 The above adorable dresses and accessories worn by Vienna and Lily can be found at Koko Blush and Co.   They always have the cutest stuff.



 Three dear (and physically beautifully) friends, Alyssa Stevens, Colleen Riggs and Alison Daines volunteered to model for the shoot.  They were fabulous!  See Alyssa and Colleen below!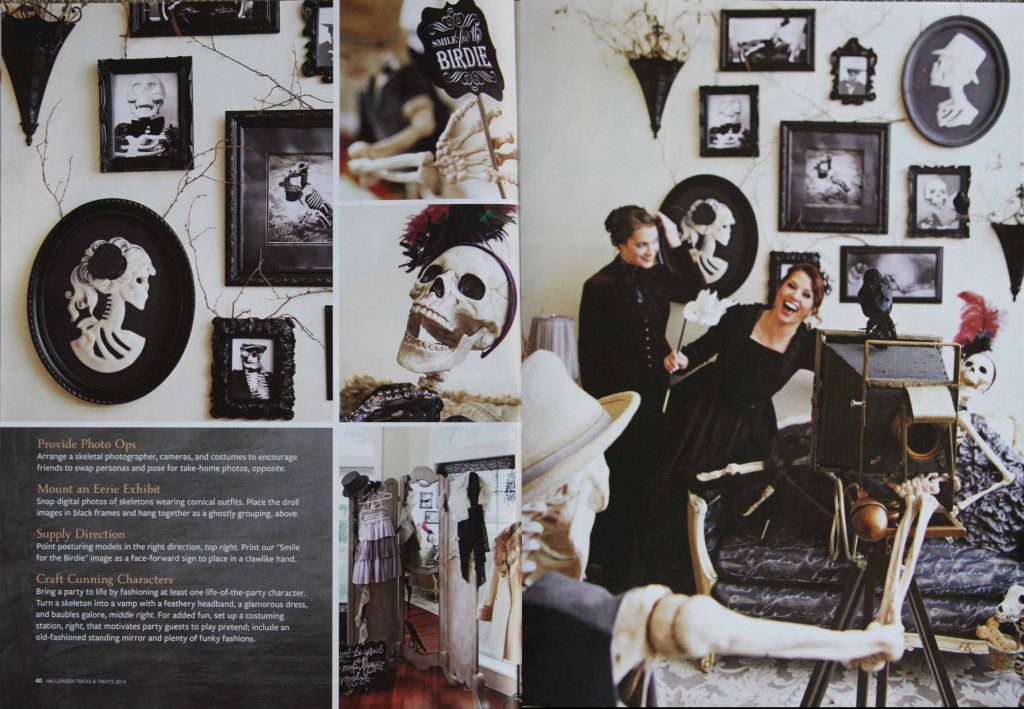 These beautiful handmade leather masks are available at Sundries and Plunder.
Below is my almost-all happy family (it was a long day for these little ones)!

A special thanks to Ann for the opportunity. Jay for making me look good in print. Mom for being "my girl Friday." Lee, Darla, and Alison for everything. Rebecca for her time and talents and support. Colleen and Alyssa for being willing and beautiful (inside and out). Holly for writing beautiful things on paper and on hearts. Monmell Designs for being so willing to work with me and the inspirations phone calls. Mandy of Koko Blush and Co. for being fabulous every time.  Betheny for always doing the most beautiful cakes.  Lisa of Blush and Beauty  for doing our makeup and letting us "old ladies" have fun!  Linda for watching my kids.  Nadia, Lizy B's and The Cookie Pixie for the beautiful cookies.