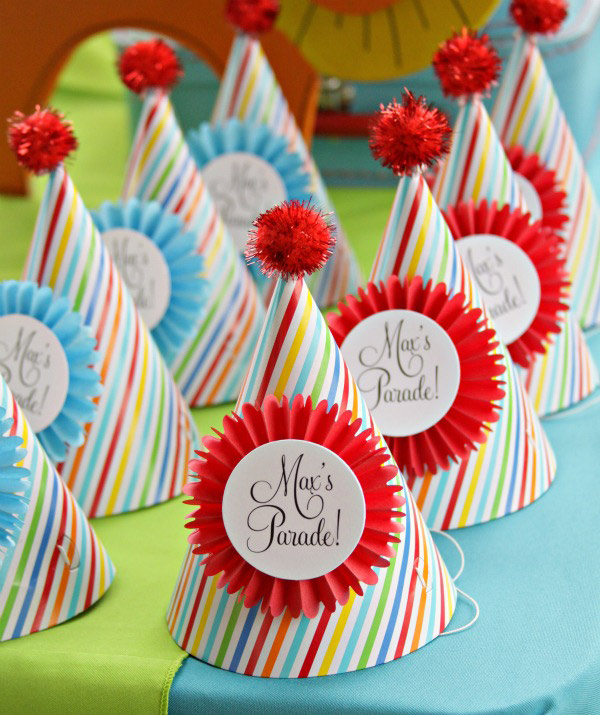 Is there anything more special than a First Birthday? There is just something about a family gathered around a twelve month old baby singing Happy Birthday that gives me sweet chills.  A first birthday symbolizes new beginnings and innocently (and perhaps naively)  symbolizes that if the parents made it through 365 days of sleepless nights – they can make it  through just about anything!   This past weekend, my sister Kristie and her husband, John, flew in from Washington D.C. to celebrate their first-born, Max, with all the family!  That's exactly what we did this past weekend with my dear nephew – here's a peek into Max's 1st Birthday Animal Parade.  Details at the end of the post!
Details:
1) My sister, Kristie, came up with the idea of an Animals on Parade theme.  I fell in love and created the above
invitation and collection
just for Max.  You can now
find it in my shop
for your little animal. My favorite part of the invitation
(and a new addition available with most my invitation
s) is the double sided invitation with a timeline on the back.  This was super fun to dictate on Baby Max's invitation since his first year was a bit of a joy and colic rollercoaster!
2) All the artwork was created by Simply Sandra.
3) The animal cut outs were created by
Rhino Design Lab
.  I sent them the artwork from the invitation and they handled the rest!  I attached the hedgehog to a balloon to recreate the invitation.  A little cheezy- I know.  But this party was all family.  They know I am a cheeseball and appreciated it. 🙂
4) Due to inclement weather, we had to move Max's Birthday from Friday evening to Saturday morning!  Our pre-planned ice cream and cake bar had to be completely scratched!  We instead changed the menu to all breakfast foods that were one-year old friendly!  I set out tiny cups filled with Cheerios and Trix.  I placed them at the very front of the table so little hands could easily take them as they wished!  All the toddlers were very pleased with this.
5) I am super into homemade mini doughnuts this season.  I had them at Ethan's party and I had to have them at Max's 1st Birthday as well.  To mix it up, we placed them on sticks with bows.  The kids enjoyed these perhaps the most!
6) Other kid and adult friendly menu items included:  Mini Yogurt Parfaits, Snack-sized Apple Juices, Self-serve hot chocolate, apple streudels, and mini poppyseed muffins.
7) The favor for each child was a bright pail filled with animal crackers.  I embellished the pails with a little favor tag and a 3 1/2 inch sticker featuring the animals from the invitation.
8) Perhaps the most fun part of the event was the self-made party hats!  Both young and old sported one!  I had no idea they would be such a hit!  I will be showing a quick how-to next week.  It's so non-labor intensive, it makes me giddy.  So look for that coming soon.  No hot glue gun needed!
Blog to you soon,