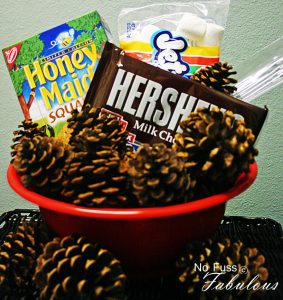 With the last day of school just a few bell rings away, it's time to start thinking about how you want to say thank you to Timmy's teacher. It's always difficult to decide what to give your son or daughter's teacher. The question of how much or how little is up to you. Every family budget is different, as well as many school policies. Some schools have a dollar amount limit you can spend, while other schools have a free reign policy. Whatever your price range, the most important aspect of a teacher's gift is sincere gratitude for a job well done. This week we are going to feature a variety of ideas for your disposal. Take them, leave them, share your own ideas!
This teacher gift was inspired by a favorite summer American pastime – roasting marshmallows! Simply stop by your local grocer, pick up a box of graham crackers, a package of Hershey chocolate bars, a bag of marshmallows, a set of cooking sticks, and a bowl of your choice. I purchased all my items at Wal-mart today. The s'more items are all on sale and right next to each other in their summer section.
Here was my cost breakdown:
Graham Crackers $1
Hershey Bars $1
Marshmallows $1
Cooking Sticks $2.88
Red bowl $1.88
Under ten dollars! (If you wanted to spend more you could easily throw in a fun gift certificate, book, candle, or gourmet lemonade mix.)
Fill the bowl with pinecones and your grocery items. Arrange them in a way that is appealing to the eye. I suggest wrapping the bowl with cellophane for easy decor, as well as transport. Attache our matching printable tag below (download by clicking here) or make your own tag declaring your love.
P.S. It never hurts to go a little over the top on the gratitude. You never know, Little-Second-In-Line-Timmy may have her next year!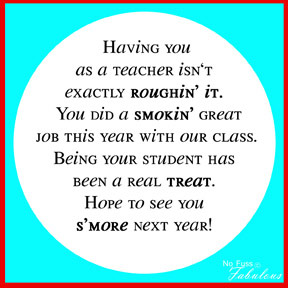 P.P.S. Yes, I am completely aware I went a little overboard with the puns this time.