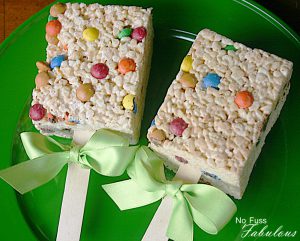 I am just going to say this, "Your kids are going to love these."
Next week, No Fuss Fabulous is celebrating children with a week filled with Kid's Birthday Party ideas! To give you a sneek peak, I made one of my childrens' favorite birthday treats – Oversized Birthday Rice Krispie Pops. These will turn a child eyes in to saucers in no time flat.

To make these adorable pops, simply triple the Rice Krispie square recipe and then add a bag of M&Ms at the end. Place the mixture into a deep 9″ x 13″ baking dish and let set.
No Fuss Fabulous tip: If you don't have a deep pan, use several bread loaf pans instead.

Cut rice krispie treats into large squares. Place large popsicle sticks into each rice krispie square.

I add a little bow – more for me than the kids! Enjoy!
Stay tuned for more children Birthday themes and ideas next week!