The upcoming Presidential debate is an exciting opportunity to get together with friends and have a lively debate of your own! Email your fellow citizens and enjoy a real political party! You can find easy no fuss patriotic e-vites here. You probably know by now that we are huge fans of cupcakes and cupcake toppers. What better way to decide who will win then by taking your own poll using our cupcake McCain and Obama toppers! . You can go here to print out these 2 inch cupcake toppers. We made them big as big as this election! Matched with your favorite cupcake, these little desserts are fit for a President!
Toast your candidate after a great rebuttal with Jone's Cola Candidate Labels! They are absolutely No Fuss Fabulous! We guarantee they will take your political party's approval rating up atleast 10 points.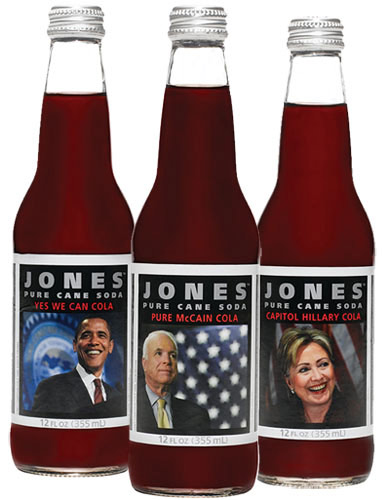 This election has left a lot of mouths sour, why not sweeten up your tastebuds with some Presidential delights? Here are our favorite Presidential "sweets" on the markets: Kai's Candy Company sells McCain, Obama, and Bipartisan candy sets! You can find them here. Another fun Presidential sweet can be found at Mrs. Beasley's. Mrs. Bealey's offers McCain, Palin, Obama, and Biden gourmet photo cookies! Buy a dozen of each and take a bite every time Obama uses the word "change" or McCain says "my friends"! You can also find many local bakeries that sell feuding candidate goodies. They are a hot item these days and will save you kitchen time.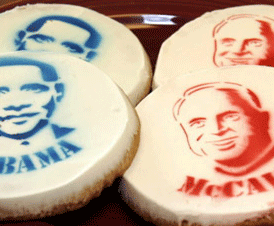 Or if have some extra time and want to be a little fussy, try making Cindy McCain's Oatmeal-Butterscotch cookies and Michelle Obama's Shortbread Cookies from Family Circle Magazine to see which cookie is devoured the fastest. We have posted their recipes here.
Just remember to put Cindy's cookies on the right of the platter and Michelle's on the left!
"When I was a boy I was told that anybody could become President; I'm beginning to believe it." – Clarence Darrow