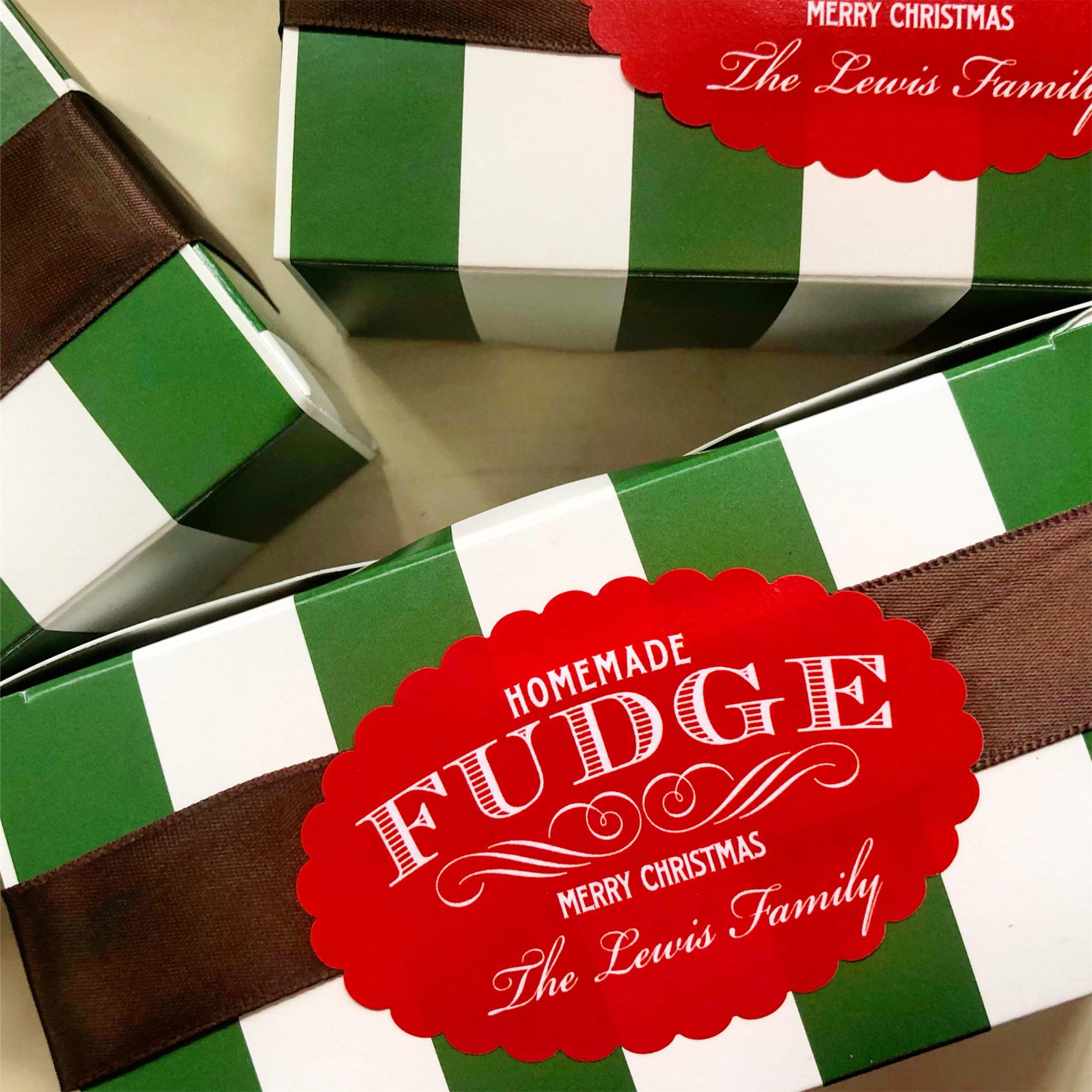 I have been so busy this holiday season in the studio (and with my kids), I bartered with my angel mom. If she made the fudge, I would ship her some of our personalized holiday labels …and some of our Holiday gift wrap! She slaved in the kitchen and shipped me the fudge – I shipped her the personalized labels and wrap! It was a fabulous exchange!
You can find our personalized holiday labels on the website here to personalize with your own name and fudge or other holiday treat. Below I am also including, one of my family's favorite fudge recipes for you. I have been making this fudge recipe since college and it won over several of my boyfriends' moms! 🙂 I hope you like it. Merry Christmas, LL
4 cups of sugar
1/2 cup margarine, melted
1 can evaporated milk
14 oz. Belgian Chocolate (if you do not have this, substitute two 7 oz. Symphony chocolate bars instead)
1 12oz chocolate chips, semi-sweet
1 8oz marshmallow cream
1 tablespoon vanilla
1 cup walnuts, optional
In a mixing bowl, combine sugar, margarine, and milk. Mix together well. Pour into a heavy saucepan, and bring to boil over med-high heat. Cook for five minutes. Do not stir at all while the mixture is in the pan! In mixing bowl, combine broken up chocolate bars, chocolate chips, and marshmallow cream. Pour hot mixture over Chocolate. Do not scrape pan. Mix with a beater until smooth. Add vanilla and walnuts if desired. Pour into 9×13 pan sprayed with cooking spray. Let cool overnight. Cut into long strips and wrap in plastic wrap to prevent drying out. Can be refrigerated.
#madewithbelgianchocolate #neighborgifts #done #anddone #thanksmom #loraleelewis #loraleelewischristmas