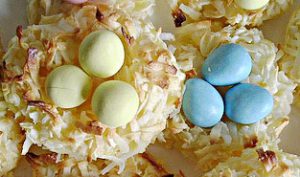 With only four ingredients, eight minutes of cook time, and a ton of festive cute-ness – these little sweet treats are a must for any Easter celebration in my book!
What you'll need:
16 ounces shredded coconut
1 can (14 oz.) sweetened condensed milk
2 teaspoons vanilla extract
Jelly beans or candy Robin Eggs
What you do:
Mix first three ingredients together. Drop by teaspoonfuls onto generously greased baking sheets. Bake at 350° for 8 minutes. Cool coconut macaroons slightly; remove to rack. Once cooled, place candy Robin Eggs or jelly beans on top of coconut "nests."
Makes about 4 dozen coconut macaroons.
Want more Eater fabulous-ness? Click below for more No Fuss Fabulous ideas.
Easter Place Card Robin Nests
Growing Easter Traditions with Small Sprouts
Easter-scape Candy Vase