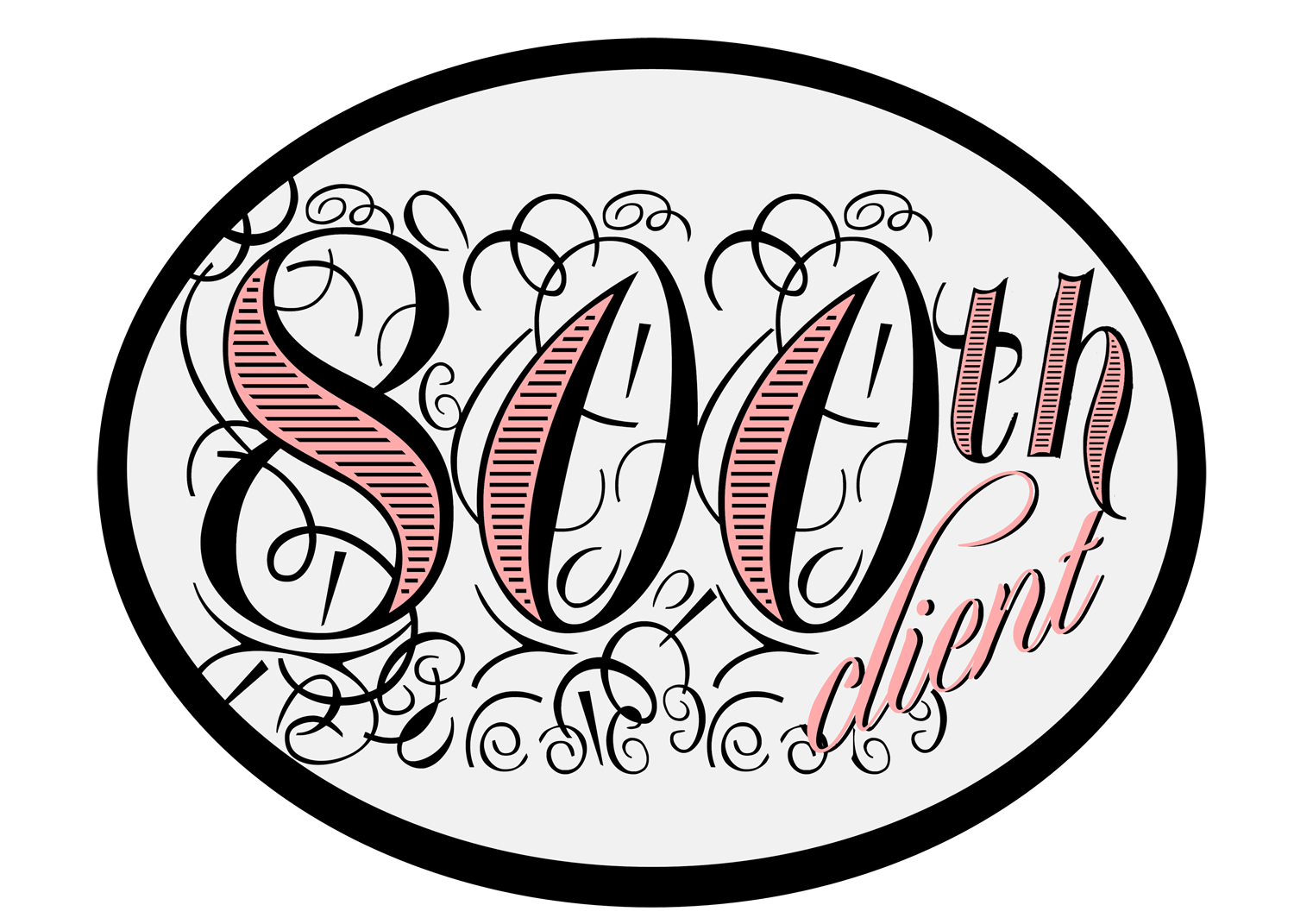 Exciting news! This week we will have our 800-th client at Loralee Lewis since opening up last July! I feel so beyond blessed that we have had so many loyal and fantastic customers! Our clients have been so great as we have moved beyond printables to printed only products shipped to your door!
At the beginning, there was the quite the learning curve in product production and customer assistance, but now I can honestly call our little shop a full on printing-press that rarely stops! In celebration, I have been working day and night on beautiful new designs (including several wedding collections coming soon!!! Yay!) and we have been putting up new collections weekly in the shop. Below is the Come One Come All collection that I created originally for my BFF's baby shower .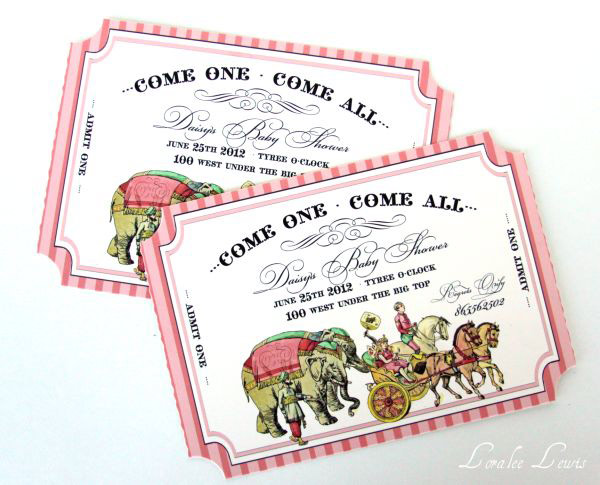 As of February, all my invitations are now printed on 130 lb. heavy card stock with professional printing.
It is better quality paper than many wedding invitations.  I love it!!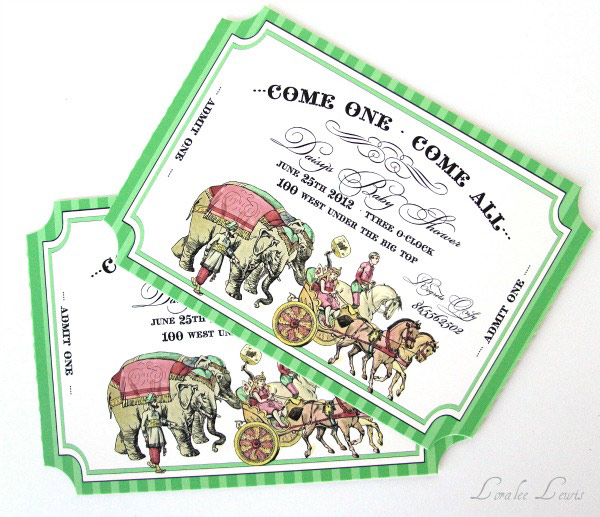 Color is almost always completely customizable on all our products.   Most of the children's invitations that feature little boy and girl illustrations, I have made available in a variety of skin tones, eye colors, and hair types.  I have always had a difficult time finding things for my cuties and so I have made this a bit of a priority!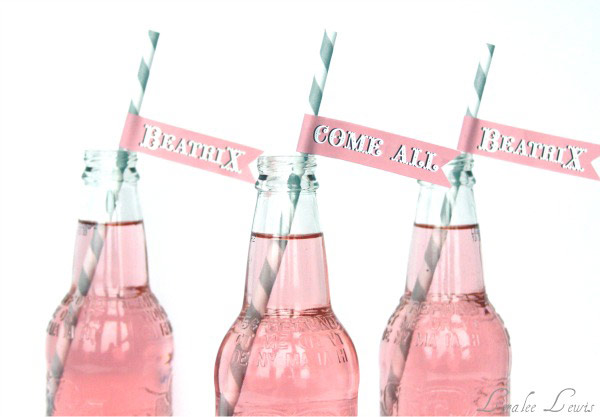 This is a brand new product we are offering – Custom Pennant Straw Flags.    We have ten colors of striped paper straws to choose from and the pennants can come in any color you choose! Yay!  The pennants are also 100% waterproof and so if they fall into your drink – the pennant and wording on it will still look perfect!   Double Yay!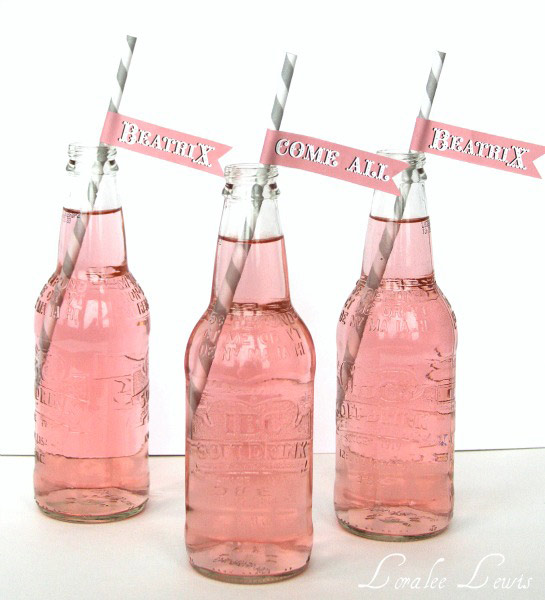 The straws and pennants are just so fun – I had to put two photos.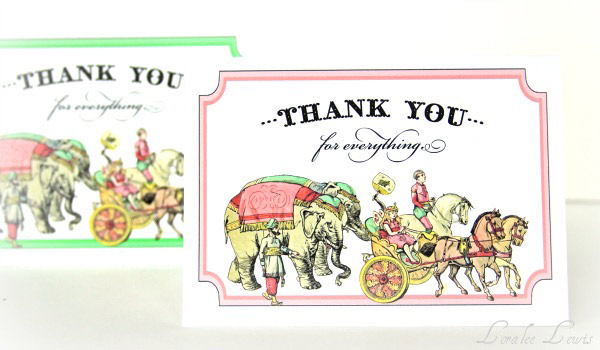 All the collections come with coordinating thank you notes.  I am such a believer in thank you notes.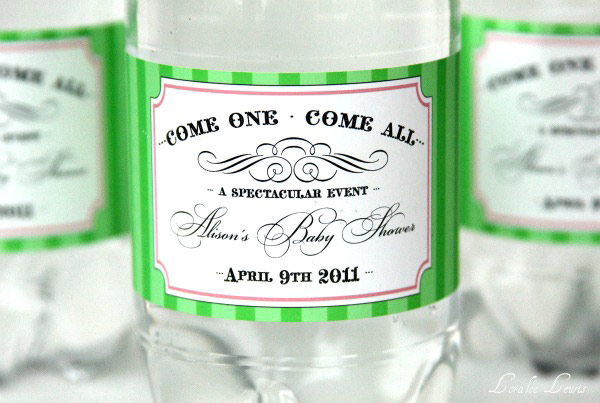 Also, every one of my collections now come with coordinating  water bottle labels and soda bottle wraps (not shown)!
These too are 100% waterproof and weatherproof – meaning you can leave these labels in a jug of ice cold freezing water for up to one week and they will still look stunning!   I was giddy for an entire week when I first started offering them only in waterproof /weatherproof.   Perfect for summer parties and weddings.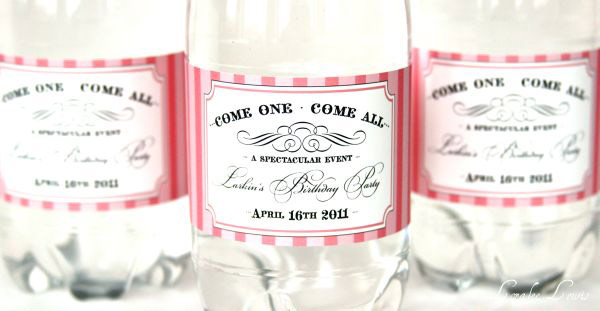 I love stickers.  So every collection has two sets of stickers.  These are not waterproof, but they are also not funproof.   I love putting stickers on everything as you can see from BFF's shower.   So much fun!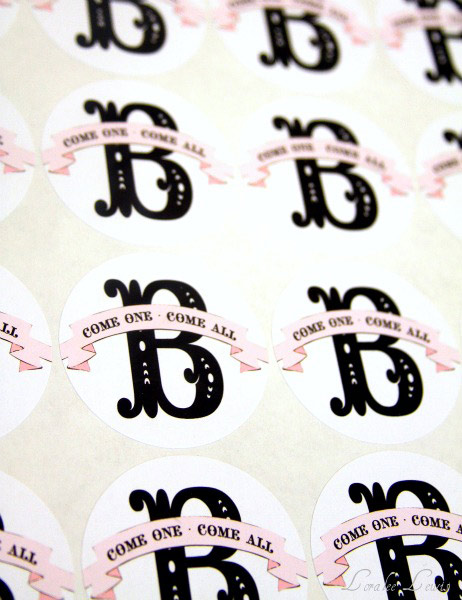 The cupcake topper kits I purposefully made easy for us ladies.  Like I said, I do not offer printables.   I don't offer them for many reasons, (one being the brick and mortar stores that are carrying the invitations are worried about quality control blah blah), but honestly – another HUGE reason is I want party planning to be fun.  There is nothing more frustrating (in my humble opinion) than trying to print out a PDF file on your kind-of-good printer, punching each circle out, messing up, reprinting, cutting yourself  – then running to the store to try and find suitable sticks.  It's just frustrating.  Not fun.   Trust me, it took my little company a full year before I full year to get these perfect and that's with professional printers and cutting machines!  That's why I now offer the cupcake topper kits.  In the kit comes 12 perfectly cut and printed cupcake topper circles and 12 cupcake topper sticks.  The toppers are customized for your event.  You just put them together and you are done.  No printing.  No cutting.   If you want to do crazy embellishments – you can go for it!  If you like them sweet and simple – you are done.  Technically, you still "made" them.  But you are still sane.  And I am a huge fan of sanity prior to a party.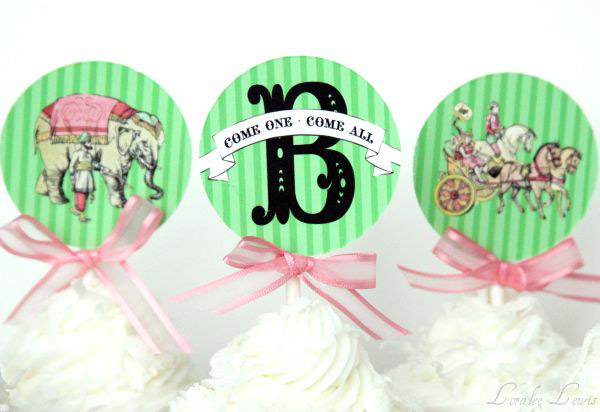 Each collection also comes with coordinating
favor tags
,
custom banner
, registry inserts,
address labels
, and buffet signs.  I'd show you, but in the interest of not making this the longest post
ever
– I will stop here.  The few people who are still reading up to this point, have already won a marathon.  No need to go for the triatholon today. 🙂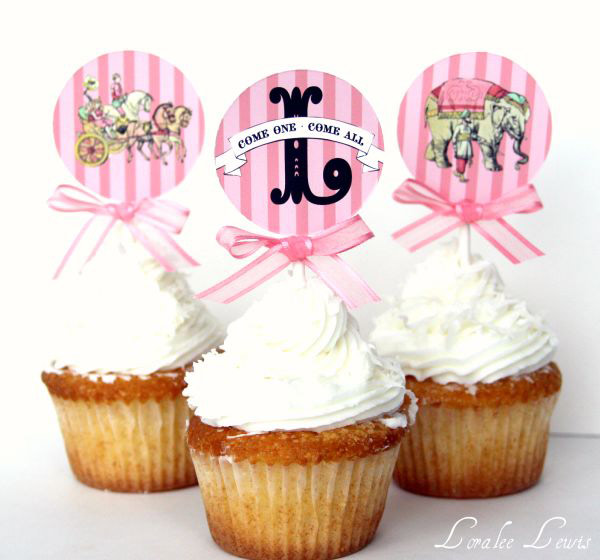 Blog to you soon,