Carrots are really one of cutest symbols of the Easter season. This carrot craft plays two roles: 1) Keeping your kids happy while your glazing the ham and 2) Adorable homemade embellished napkins for your kid's Easter brunch. Of course, you could always purchase orange and green napkins to make more professional-looking serviettes. But in this case, we wanted to keep the craft simple and low cost. We used all the things every mom would ordinarily have on hand in her home. We figured (if you are anything like us) you already have enough things on your grocery list to forget!
Here's what you need:
White square Napkins (even paper towels would do!)
Crayons
Tape
Raffia (optional)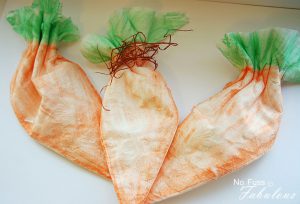 Here's what to do:
1. Fold square napkin in half making a triangle.
2. Color 3/4 of napkin orange.
3. Color top 1/4 of napkin green.
4. Using your fingers, gather the napkin in between the two colors.
5. Pinch the gather together and place a small piece of tape on the back to hold in place.
6. Tie raffia around carrot napkin.
7. Set each carrot napkin on the table for your child to proudly display!
Need something for the adults? Check out our Easy Floral Easter Napkin Rings here.
Want more Eater fabulous-ness? Click below for more No Fuss Fabulous ideas.
Easter Place Card Robin Nests
Growing Easter Traditions with Small Sprouts
Easter-scape Candy Vase
The Easter Bunny "Carrots" for Your Health
Easy Coconut Macaroon Easter Nests
Easter Egg Roll