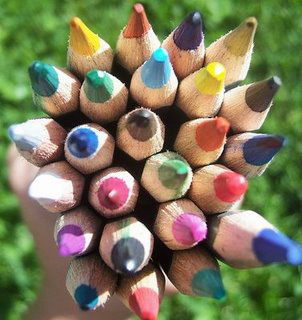 I have come to believe that a great teacher is a great artist and that they are as few as there are any other great.  Teaching might even be the greatest of the arts  since the medium is the human mind and spirit.  -John Steinbeck
If your child's teacher was one of those Steinbeck was speaking about, then this is the perfect teacher appreciation gift for you to give them!
Numerous family members of mine are teachers.   And after seeing the numerous heartfelt, yet perhaps not clutter-free, gifts that have been given, I have decided giving teachers only gifts that they can use.  Let's be honest, there are only so many chotchkies of apples, worms, and owl paperweights that a woman can have! Although, now that I think of it, all those chotchkies might look good hanging together on some small potted tree in the classroom…but I digress, here is a chotchkie-free gift!
Ever since the 1998 movie, You've Got Mail starring Tom Hanks and Meg Ryan, a bouquet of newly sharpened pencils has become a beautiful thing which any teacher (or woman for that matter!) would love to receive.  Here is how to make one:
1. Buy 20 to 50 pencils or colored pencils. Less than 20 does not have the same effect and more than 50 is hard to secure in a bouquet.
2. Take them out of the box and gather them into your both hands making a rough circle with all the ends flat against your tabletop.
3. Twist the top half of all the pencils with one hand making the top and bottom of your "bouquet" flair out.
4. Have someone else secure the pencils around the middle with a piece of floral wire very tightly.
5. Cover wire with bow or twine.
6. Have your child write his name on our printable 4×6 card and attach the free card from No Fuss Fabulous! Download here.
6. Give to your adoring teacher who will remember your little Tom Hanks forever!