A very merry unbirthday to me? To who?
A very merry unbirthday to me! To you!
Let's all congratulate me
With a present I agree
A very merry unbirthday to me

This weekend my little daughter celebrated her birthday! Since she adores rabbits, tea parties, and wearing hats, I thought an Alice in Wonderland inspired Very Merry UnBirthday was the ticket. Above is a slide show of the pint-sized event with photos of the girls and below are some still photos with a little text on how I put it all together. Since my daughter is just a toddler, I kept it small, simple, and as whimsical as possible.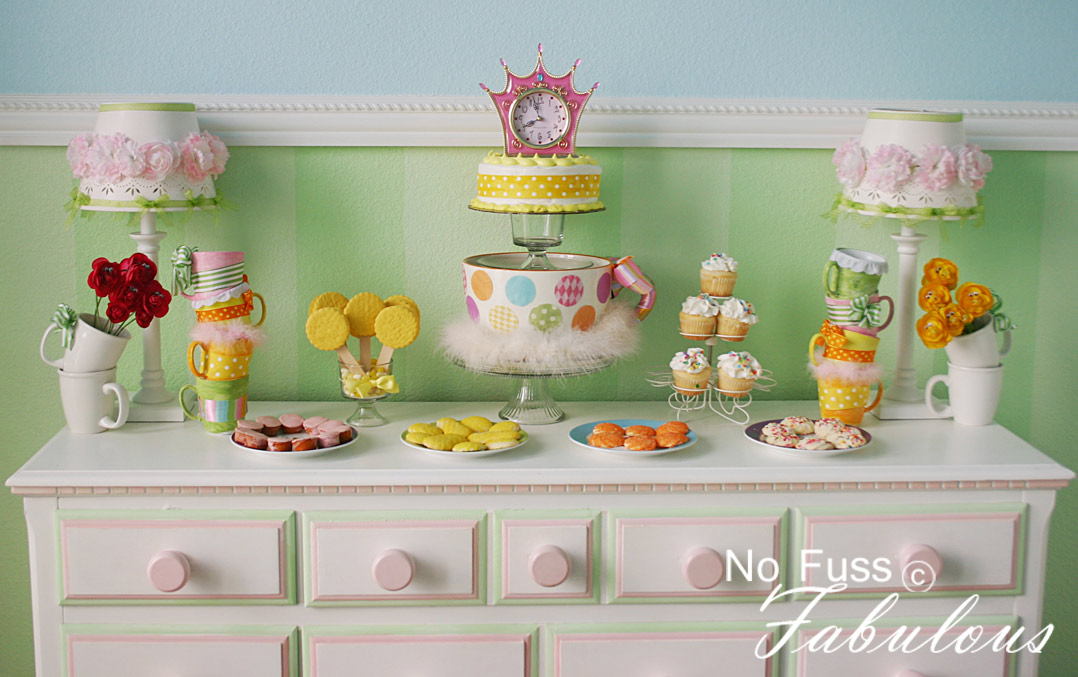 Little girls love pretty things! And with such big imaginations it's easy to transport them to a whole new world (like Alice) with just a little bit of help. For the Tea Party Tablescape, I chose brightly colored sprinkled cookies, cupcakes, and treats. I didn't buy a lot of one item, rather just a few of each because I knew the girls would want to try one of everything. This kept the cost-low but the table seemingly-bountiful to the girls!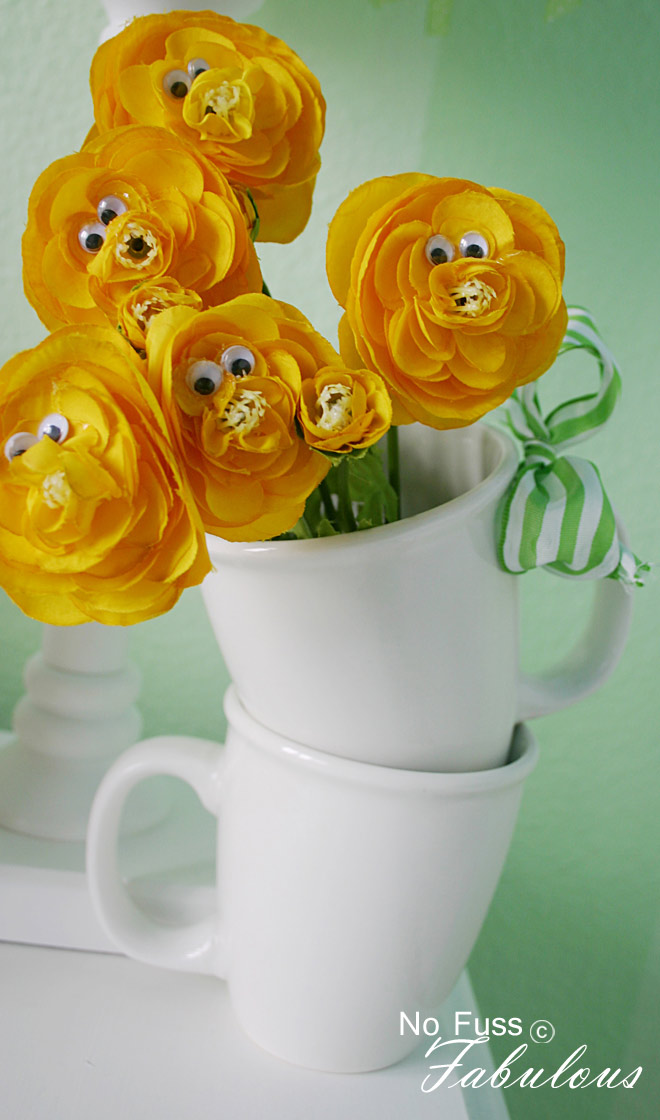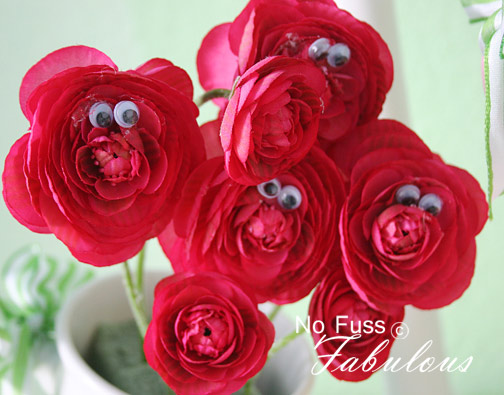 I added wiggly eyes to florals to re-create the look of the flowers in the Disney version of the garden scene. I placed the flowers inside double-high stacked white mugs and tied brightly colored ribbons around the handles. I didn't paint these cups because I wanted the flowers to be the focus. It worked! The little girls thought these were the best! I included mini-bouquets of the flowers for each girl on her place setting.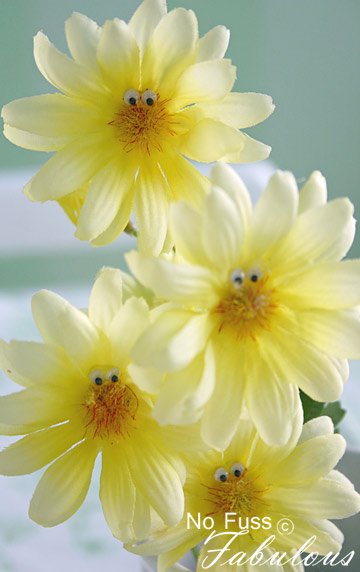 This is not pictured. The party was quite last minute and so quite a few of the photos I had wanted to get I wasn't able to snap! You'll notice on the cookie plate close-ups that they were taken after the girls began eating! So is the life of being a mommy!
I moved some of the furniture out of my little girl nursery and set it up for the divas. Before the girls entered the room, each of them had to slip through "The Rabbit Hole", a small tunnel I had on hand that I labeled with a whimsical sign. I definitely loved this because it was so cute watching these girls in their puffy little dresses crawl through the rabbit hole. Again, I wish I had photos!! When they entered the room I had Alice in Wonderland music playing that I downloaded from iTunes and they each chose a hat to wear out of a basket. (My Vienna chose bunny ears because she loves rabbits…that and her hair doesn't really accommodate most hats!)
I purchased inexpensive small mugs at a thrift store,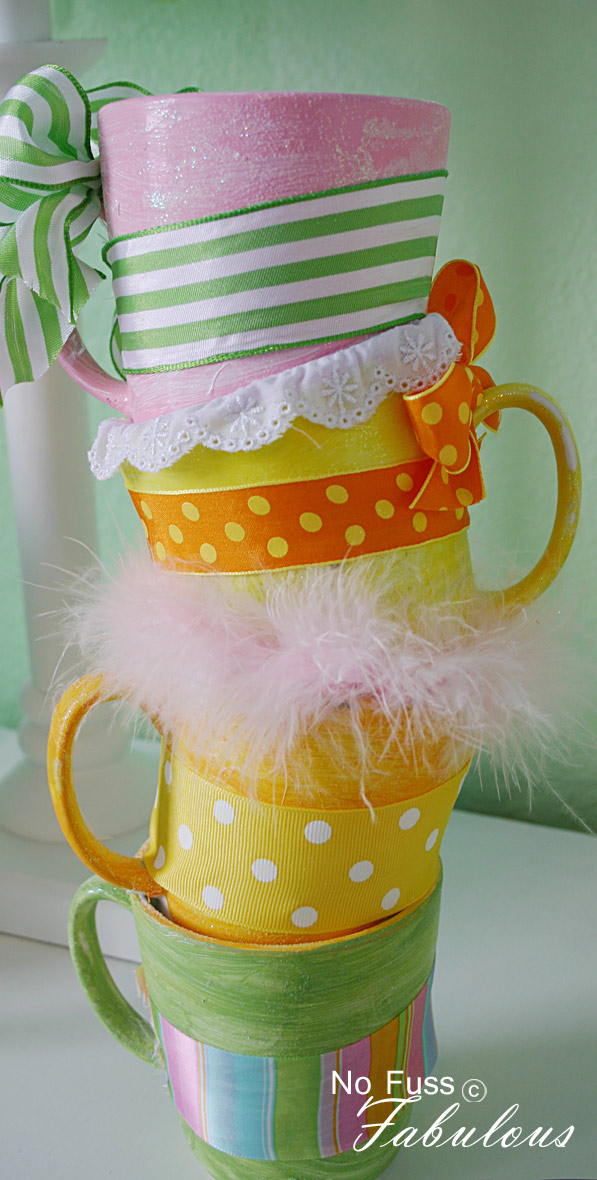 stacked them on top of each other and then painted and decorated them with bright colors, ribbons, and marabou. I had originally wanted to purchase real tea cups and glue them on top of each other, but I was unable to find the time to go look. So this was Plan B. But I liked the finished product. I didn't worry about doing everything perfectly. I actually on-purpose made everything a little imperfect with the paint and ribbons because I think part of the charm of an Alice in Wonderland themed party is everything is a little undone. Nothing is perfectly as it should be.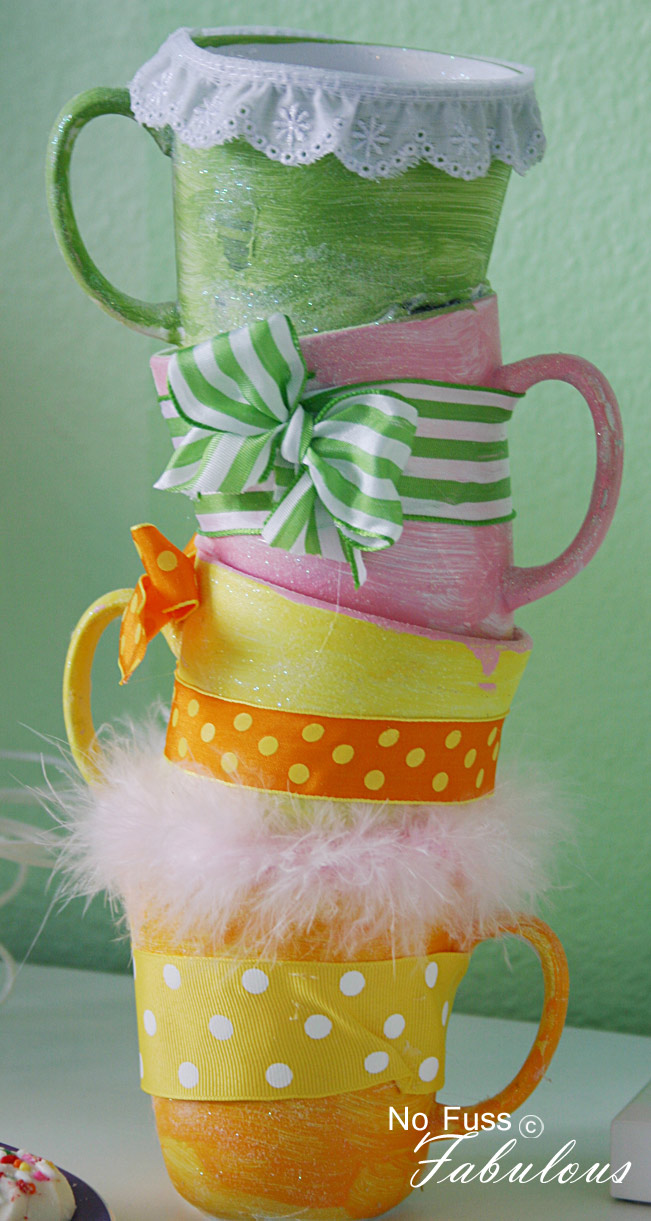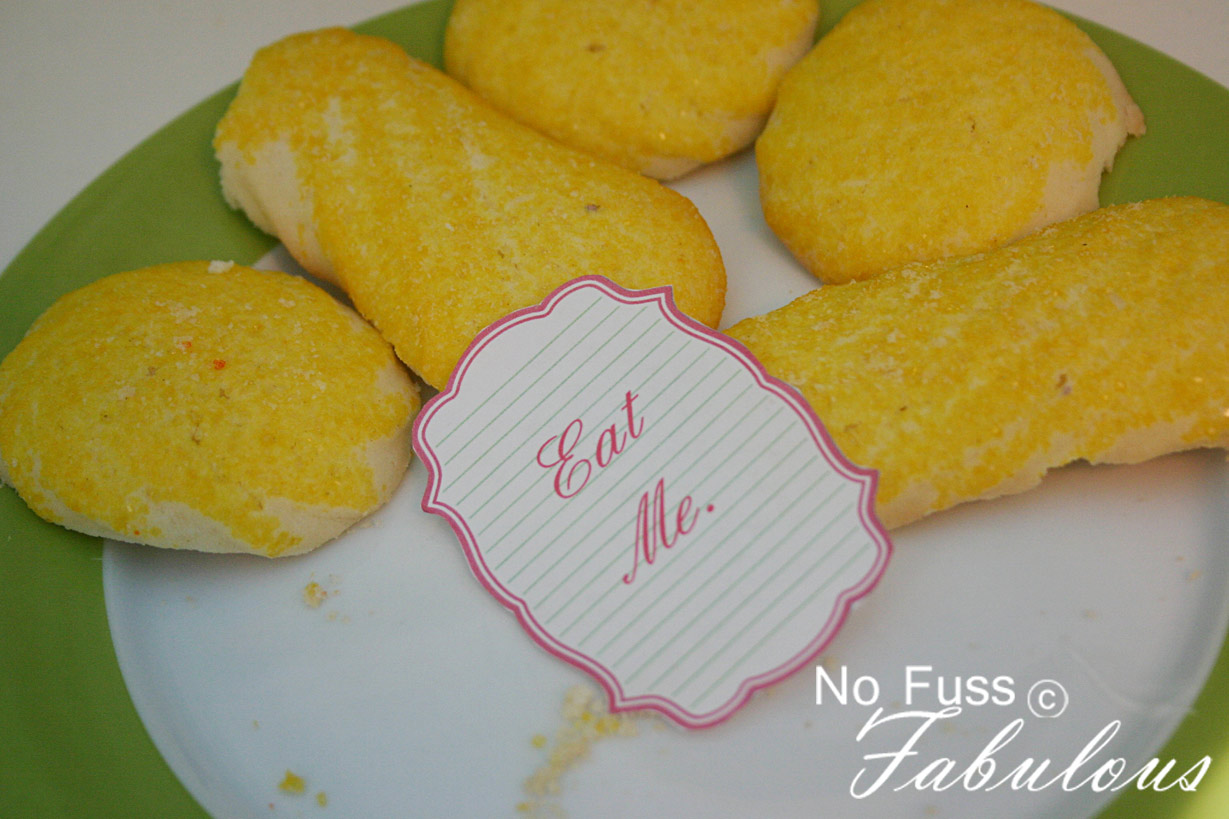 To keep the party simple, I placed miniature little "eat me" "drink me" or "take a bite" signs around the cupcakes, cookies, and drinks. I have seen many adorable Alice in Wonderland treats written with the words in icing on top but I found this to have the same effect without the work.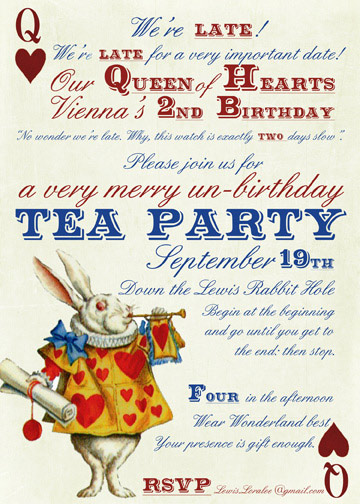 Special Note! These Alice in Wonderland Tea Party invitations are now for sale at Loralee's Etsy Boutique here along with coordinating items and many other fun party themes!