This past January, KSL Television asked me to design an event for the contibutors of their 11am Lifetime Show, Studio 5.  The theme was "Make It Pop!"   The executive producer, Michelle Torsak, asked me to create an event that would energize KSL contributors to make their on-air segments truly pop!   To be honest, nothing in the dead of January really pops to me.   I decided to bring a little Spring in.  I fused the event with citrus yellows and kelly greens.  Below are the results!  I love this theme for a Baby Shower as well and have since tweaked the invitation I created for Studio 5 to suit a mother-to-be shower!  This collection will be in the store shortly!  Notes and credits are at the bottom of the post!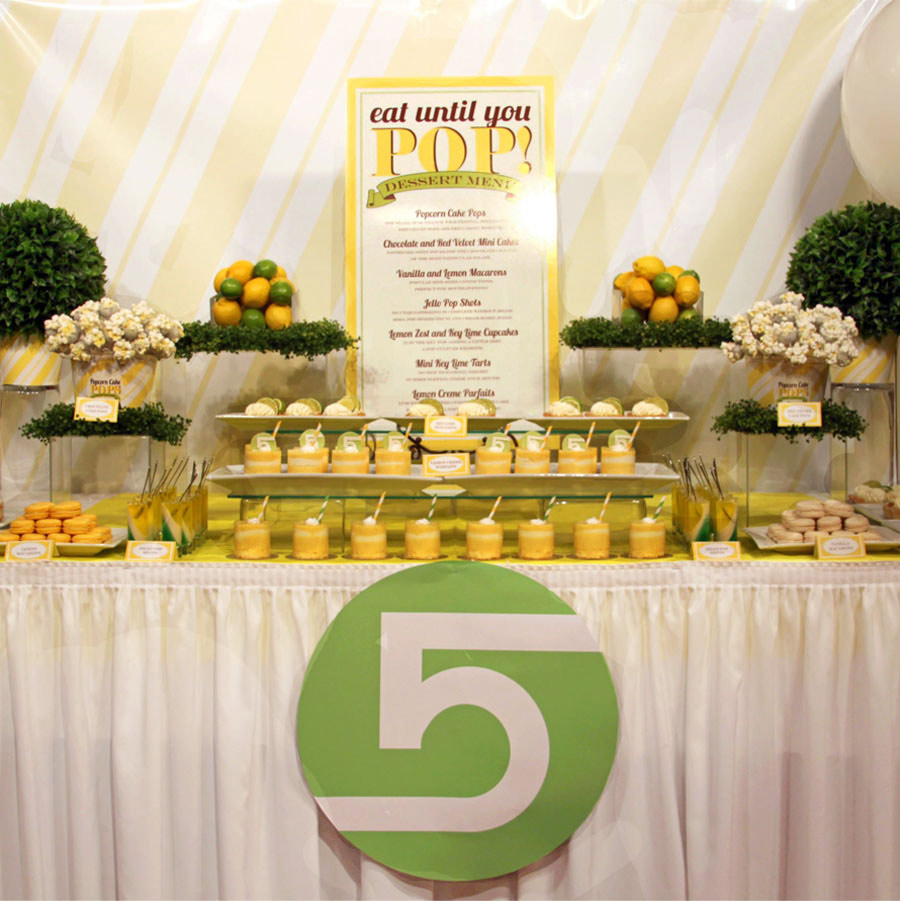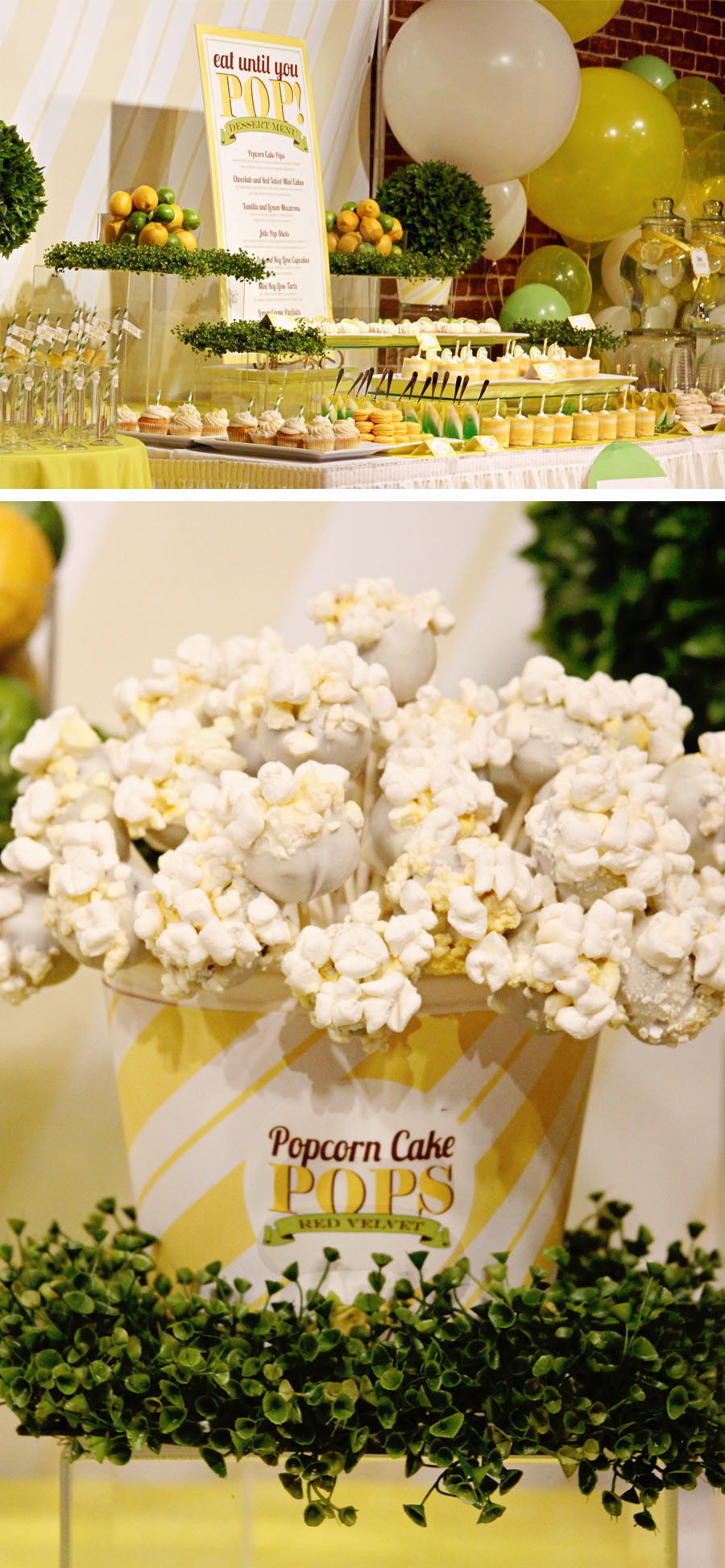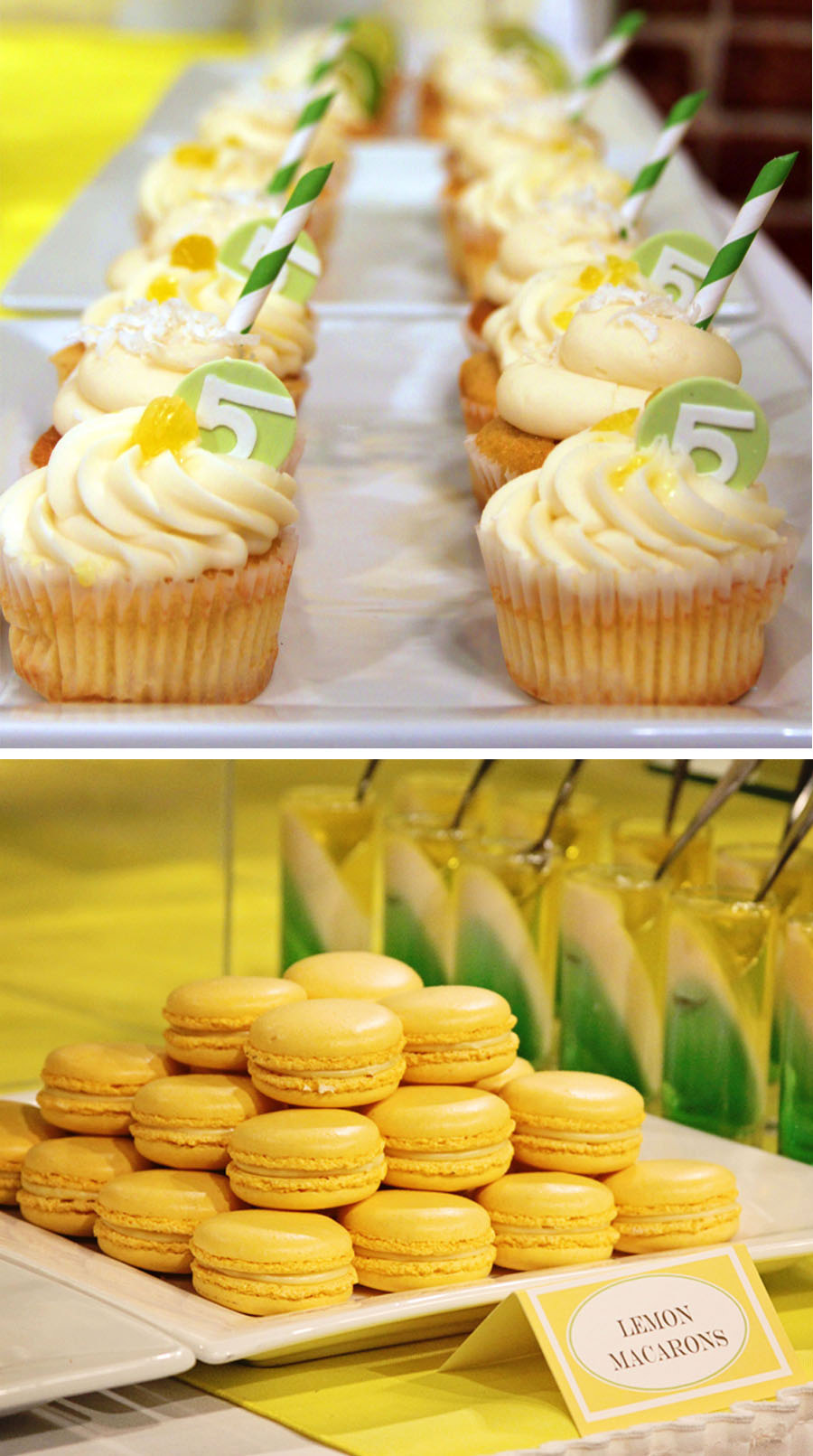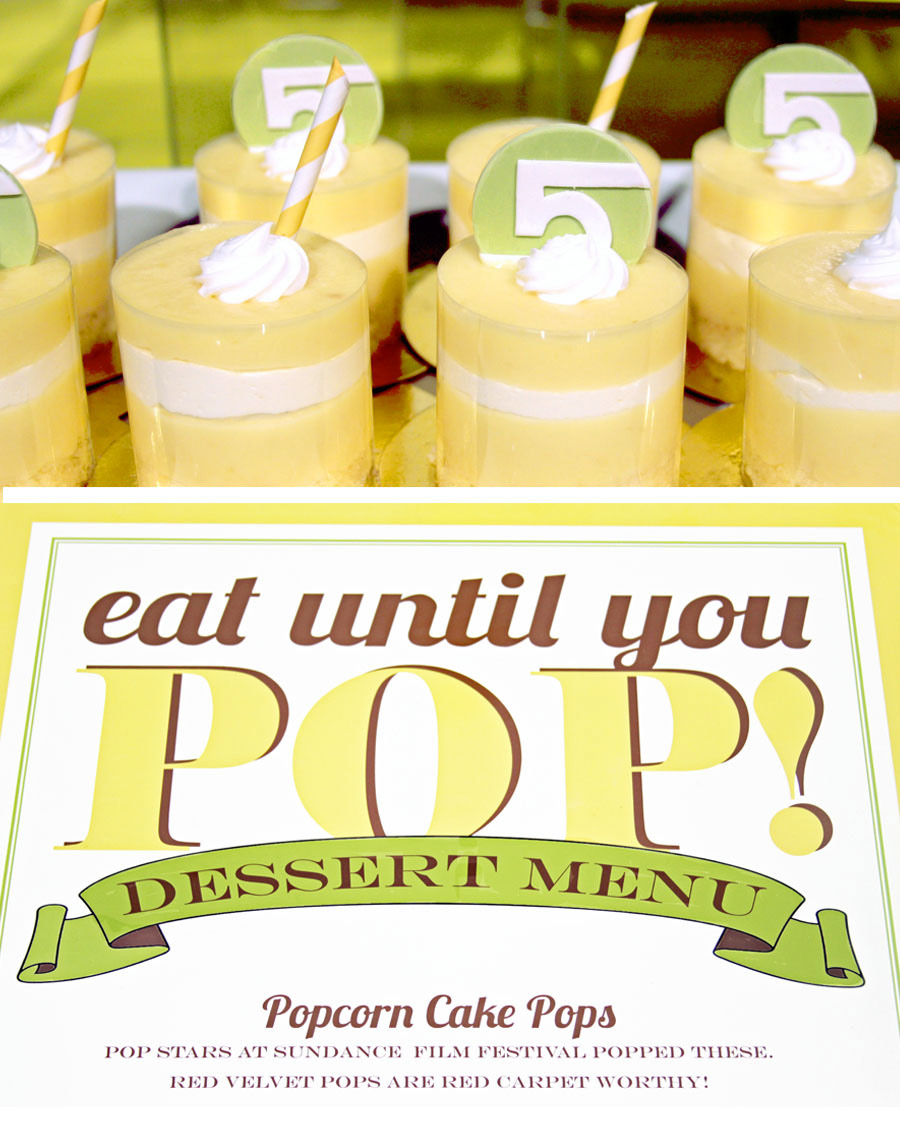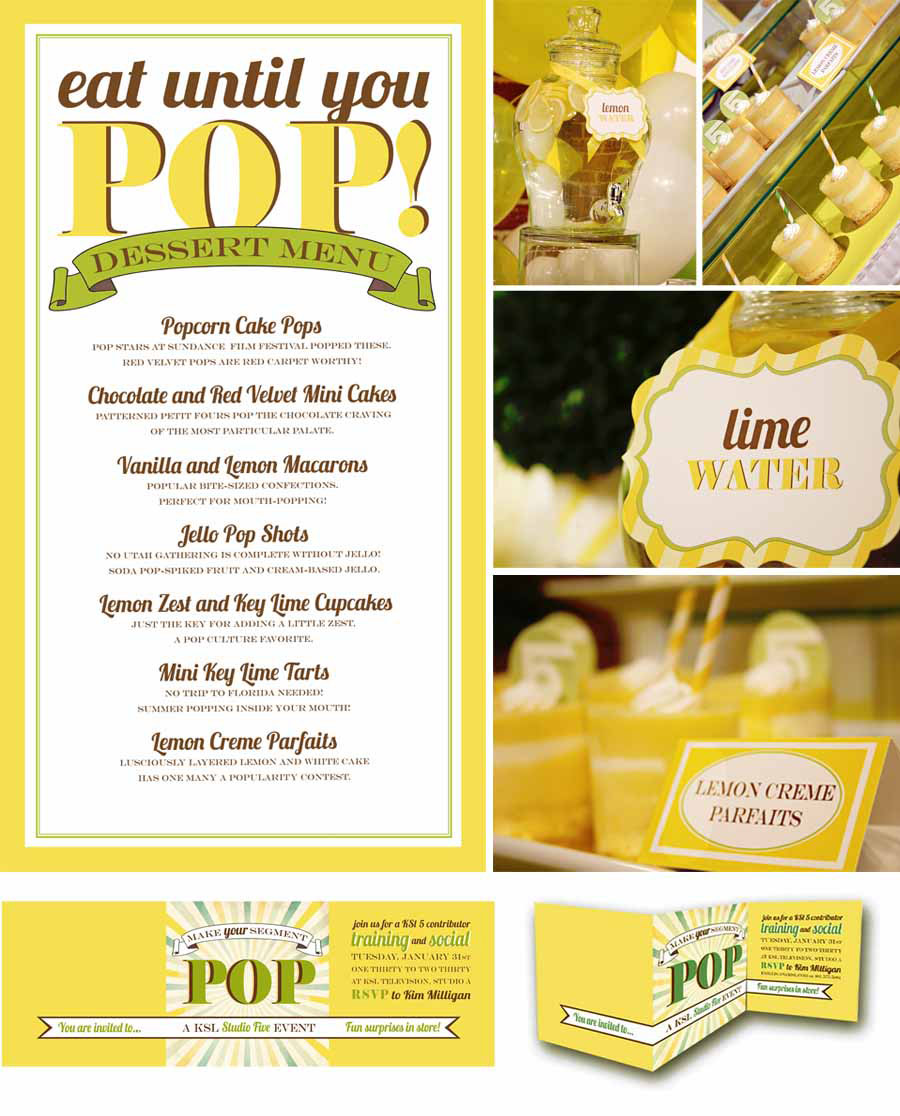 Notes & Thoughts:
1) Edible Details created large and mini fondant circles with KSL 5 Logo that are featured in the layered lemon parfaits and cupcakes. So cute.  Brittany always does a stellar job.  I couldn't have been happier.
2) Not pictured…is a lot. But one of my favorite details of the event that I was unable to capture for you was the balloon pop.  Per Michelle Torsak's suggestion, we blew up dozens of balloons and inserted small pieces of paper into each with a prize written on them.  Under each guests chair was a small white box with a large yellow ribbon on it.  Attached was a tag that said, "Something to Make It Pop!"  Inside each small box was an oversized pushpin for each guest to pop their balloon with and see what prize they won!  Guests loved this little detail.
3) One of my newest products (that the brides have been going nuts over) are my custom popcorn boxes.  You can see them in the above photos.  I have to admit it, ladies.  I just think they are fabulous!  For this event, I designed them with yellow stripes and the KSL Logo.  For weddings and showers, we have been doing all sort of beautiful soft designs with monograms and wedding dates… and I won't even begin to tell you how fun the circus birthday collections are with these.  Will post photos soon!
4)  Every event has to have a debacle.  Mine was the bakery.  New to the SLC area, I haven't found a bakery that I am well-familiar with yet, but I had heard good things about one and decided to go for it.  I had adorned oversized popcorn buckets and asked the bakery to create custom cake pops for the event, as well as a few other items.  I wanted the cake pops to look like popcorn.  When we picked them up, there was nothing I could do but freak out.  The cake pops didn't look like popcorn.  They looked  like cauliflower!  Also the mini cakes I had ordered that were promised to be 3″x3″ were actaully 8″x8″.  Beautifully decorated, but WAY too big for a single serving and not in the shapes instructed.  Keep in mind, I had spent over 400 dollars having these items custom created for the event that was in less than 24 hours.  After a few tears over the  cauliflower and "mini" cakes – like a good hostess, I moved on.  My mother "Martha" saved the caulifower pops by creating mini popcorn puffs out of mini marshmallows and a little food coloring.  She promises me (and you) a how-to shortly.  The "mini" cakes are still in my freezer and will debut themselves in another event, I am sure.  Lesson learned: Even triple-checking with a bakery, doesn't insure proper execution.  Know your baker.  I am so happy that I went with several different vendors for the food as if I had solely used this bakery, it would have been a serious problem.  I think diversity saved me in this case.
5)  I passed on traditional soda bottles and cups.  For a fresh look, I opted for tall modern clear glasses and completed the look with a sugar rim and lemon wedge.  It popped with my guests.  Pun completely intended.
6) The Menu was fun to create and one of my favorite items of the whole event.  I went crazy with puns.  And you know how I feel about that.
7) The layered jellos were a hit and simple to make.  I shocked myself by taking photos of the step-by-step to show you.  Will post how-to soon.
8)  La Bonne Vie at Grande America provided the beautiful (and delicious) French Macarons.  They are one of the only places in SLC that offer custom flavored macarons…and it's just kind of fun to go there too!
A special thanks to my team here at the Studio: Annette, Sandra, Alison, Tami, Katie, Wayne, Annie, and Gary! I could not have done it without you!
Blog to you soon,