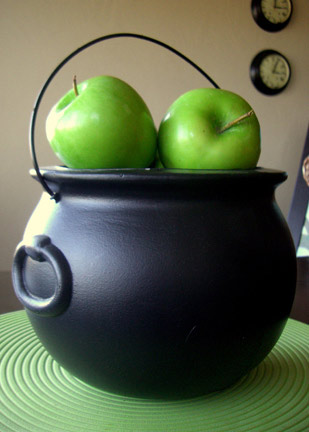 Halloween is almost here! Moms may dress up as witches this season, but we don't want to be remembered as one! With locating the fangs, wings or wands, painting faces, and helping with the classroom parties,we don't need one more thing to think about but we do want to make this holiday fun and memorable for us and our loved ones. As much as we like the cute goodies and candies of the season, moms like us want to get a few healthy foods into our mini monsters' mouths! With just a bit of creativity, healthy snacks are just as no-fuss as the sugar coated kind.
Whip off the chef hat and replace it with a witch one, because it is time to lure your little Hansel and Gretel to eat our "poison" apples! Lucky for us apples are in season. Buy your favorite kind; we like the tartness of the Granny Smith or the crisp sweetness of the Honey Crisp apples. Fill a cauldron full of apples and chill in the refrigerator overnight. We bought our two dollar mini cauldron at Target. We just piled the apples in and then cut the apples with a apple peeler-corer as we ate them. Kids love to use the apple peeler with a little help and the swirly apple slices are fun to play with!
No-Fuss Tip:If you would like to cut the apple slices before, take a tip from our friend Alison Daines and soak the apples in pineapple juice overnight. This way they don't brown before you eat them!
No-Fuss Tip #2: This is a great opportunity to review who kids take treats from and what is safe to eat. Review the story of Snow White or Hansel and Gretel.
For a healthy "poison" apple dip, combine one 8 ounce package of neufatel cheese (or cream cheese for a richer taste) with a half cup of brown sugar and a tablespoon of vanilla.
Looking for more Spooktacular ideas? Check out these past posts for more Frightful Fun.
The Mad Scientist Dinner Party
Buried Alive Cupcakes
Fabulous Fall Planters
Fussy Friday: Gourmet Cinnamon White Chocolate Caramel Apples
Mummy-friendly Halloween Treats
Halloween Bling & Princess Pumpkins
Frightfully Fun Mac-N-Cheese
Trick-or-Treat Bouquet
Yummy Mummy Dogs & Hallowieners
Mummified Memories
Spooktacular Table Settings
O-tiful Halloween Cupcake Toppers
Easiest Pumpkin Spice Cupcakes Ever!