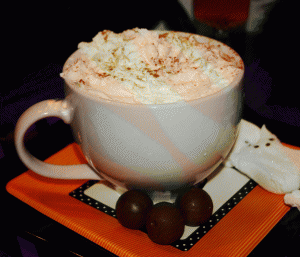 When the frightful chilly weather begins blowing in, there's nothing better than a hot cup of cocoa to warm the bones! Our No Fuss Fabulous Pumpkin Spice Hot Cocoa is a perfect fit for the season. Have a cup after a romp in the leaves or before curling up to read Twilight (again). Either way our No Fuss Fabulous Pumpkin Spice Hot Cocoa recipe will warm your autumn evenings and keep the chill for Hallow's Eve.
Here's the recipe:
Serves six.
6 cups of milk
6 packets of powdered hot chocolate OR ½ lb. of dark chocolate bits
1 1/2 tbsp. pumpkin pie spice
Lots of whipped cream
Cinnamon
Heat milk to almost boiling. Place hot chocolate mix into mugs and mix in thoroughly ¼ tbsp. of the pumpkin pie spice. Pour in hot milk and stir well. Load on the whip cream. Sprinkle cinnamon on top. Enjoy!
Looking for more Spooktacular ideas? Check out these past posts for more Frightful Fun.
The Mad Scientist Dinner Party
Martha's Spiderweb Cheesecake No Fuss Style
Witches' Apothecary
Buried Alive Cupcakes
Fabulous Fall Planters
Fussy Friday: Gourmet Cinnamon White Chocolate Caramel Apples
Mummy-friendly Halloween Treats
Halloween Bling & Princess Pumpkins
Wickedly Healthy "Poison" Apples
Frightfully Fun Mac-N-Cheese
Trick-or-Treat Bouquet
Yummy Mummy Dogs & Hallowieners
Mummified Memories
Spooktacular Table Settings
O-tiful Halloween Cupcake Toppers
Easiest Pumpkin Spice Cupcakes Ever!