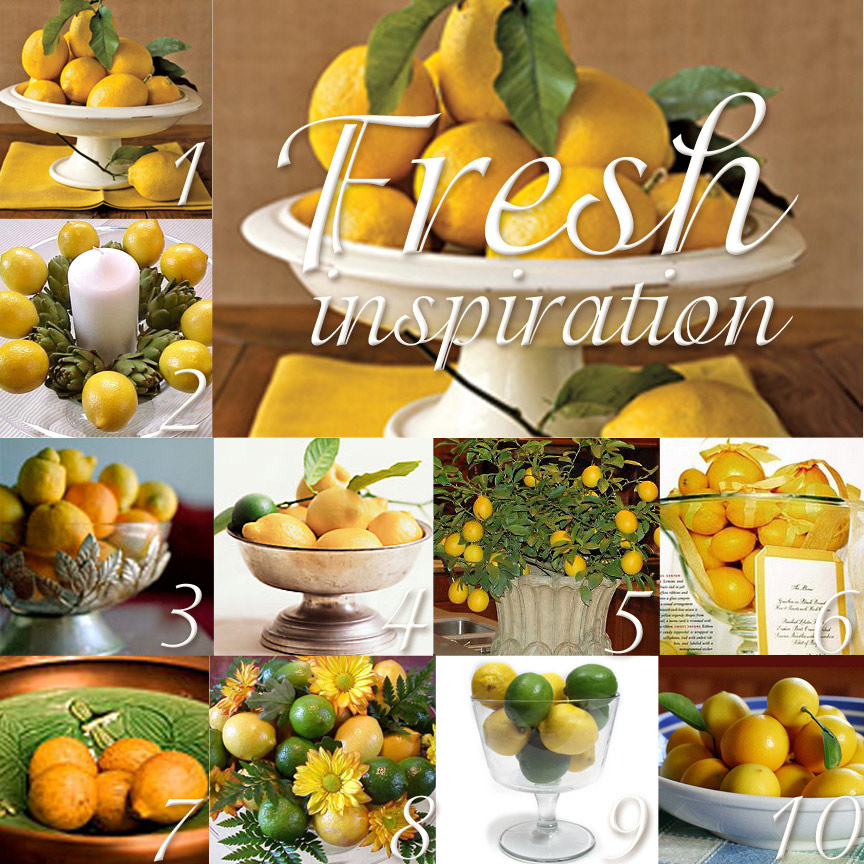 When life gives you lemons…make a centerpiece. Is it just me or does winter weather turn sour about this time of year? I am just tapping my fingers waiting for spring to appear. To speed up the process I love to add a little sunshine to my kitchen and home after Valentines Day with fresh lemons. There is just something about lemons that bring a zest of happiness to any room. A bowl of lemons brings the phrase "simplicity is elegance" to life. There is nothing more simple and elegant as lemons in a beautiful vase or bowl. One tip I can give you is that you don't have to feel that lemons should be contained to the kitchen only. A beautiful bowl of lemons can be set in a dining room, bedroom, bathroom, and even laundry room without looking out of place in the least.
Here are the links above for some fresh inspiration:
1. Country Living had my absolute favorite lemon centerpiece. I love how they left the lemon's leaves on for a more organic feel.
2. Interior Dec featured this Artichoke and Lemon Candle centerpiece
3. Foto Search inspired me with this.
4.Photographer Craig Maxwell had this inspiring photo of lemons on his site
5. QVC – You can buy this Dwarf Lemon Tree online here! I love it!!!
6. I saw this Wedding Centerpiece at Wedding Talk with Heather
7. Zofia Design showcased this lovely bowl of lemons
8. Interior Dec has a tutorial on how to make this Lemon and Lime flower centerpiece. I know it's a little bit more work. But I like looking at it.
9.Recipe Tips featured this simply perfect lemon and lime centerpiece.
10. Pinch My Salt featured this bowl of lemons – My second favorite for it's effortless feel!