Low on kisses? Make your own this Valentine season. These Fuss-free pretzels are so sweet, you won't want anyone to share them with!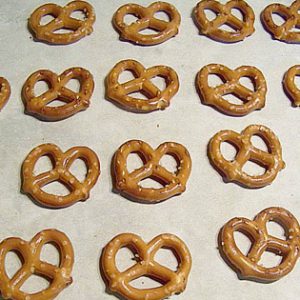 Line a baking sheet with mini pretzels.

Place unwrapped chocolate Kisses on top of each pretzel. Place baking sheet in oven at 400 degrees for five minutes or until Kisses are soft.
Take pretzel kisses out of oven. Gently place a Valentine M&M on top of each Kiss pretzel. Press M&M down into partially melted Kiss.
Enjoy!
Check out more No Fuss Fabulous Valentine ideas here:
PBK Copy Cat Valentine Chair Backer
Chocolate Dipped Krispie Valentine Pops
To Chocolate or not to Chocolate?
Sweetheart Bouquet Lollies
Chocolate Dipped & Strawberry Sprinkled Fortune Cookies
Hearts Joined Garland