Create a centerpiece for Thanksgiving that your guests will talk about and be able to talk over! A beautifully laid out Thanksgiving dinner may seem like quite the undertaking, but remember all Cinderella needed to begin her transformation was a pumpkin! So start with a pumpkin as your centerpiece and its beauty will carry you through the rest! This gorgeous pumpkin is easy to make beforehand and will be more exquisite (and not to mention more affordable!) than any ordered centerpiece.
First decide on what style your Thanksgiving is going to be. If your style is more natural with casual seating,, you may prefer to skip the third glittering step. If your style is more elegant and with formal seating, then follow all steps to fit the look. Neither style is right or wrong, just pick was fits best for you!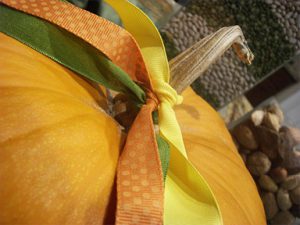 Second select a pumpkin that will fit the table you will be serving or eating from. If the pumpkin will be on the table your guests will be eating from, make sure the pumpkin has a low profile so that guests may see one another over the pumpkin and be able to converse. Picking the right size is a large factor in successful presentation. A small pumpkin may drown and disappear amongst the food. A large pumpkin will have a great effect, but may be impractical for a crowded table. Choose wisely.
For the third step, take a sponge brush and glitter glue and lightly paste the whole pumpkin while it sits on wax paper. Quickly sprinkle your favorite glitter (we love Martha Stewart's powder glitter in penny, persimmon, orange, and pink champagne!) onto the pumpkin. Allow to dry and brush off the excess.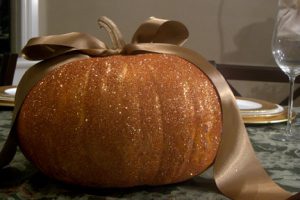 Here is Martha Stewart's example!
For the fourth and final step, tie a big bow with long draping ends cut on diagonal.
For the formal style, we prefer and rich autumn tone satin bow.
For the casual style, choose a plaid or polka dot ribbons tying knots up the stem rather than a bow.
On Thanksgiving day, allow the ends of the ribbon to twist and settle around your culinary artistry!