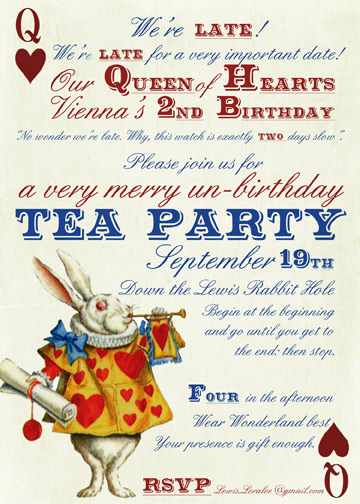 Today just may be your lucky day!   Do you remember Loralee's A Very Merry UnBirthday Tea Party she threw for her daughter?  Or Annie's You Are My Sunshine! Party?  Leave us a comment on what inspires you to be Fabulous as well as a tip that makes your life No Fuss and you will be entered to win a set of free personalized invitations from any of our past showers or parties PLUS a coordinating party pack!
Giveaway ends Monday, March 1st at 12pm Mountain Standard Time.
What inspires Annie & I to be fabulous?
*Fantastic red high heels
*Running through the sprinklers with our kids
*Olympic Canadian figure skater Joannie Rochette
*A killer handbag like this
*Great moms
*OUR mom!!
*OUR kids!!
*The smell of rain early in the morning
*A terribly cute Trench to wear in that rain!
*Creating, it is not the necessarily the creation!
*Adding a little "you" into everyday tasks
What are some of our favorite everyday No Fuss tips?
*TiVo your favorite shows and only watch them when you are on the treadmill.
*Always, always carry blank thank you notes and tampons.
*Menu plan. Just do it.
*Before you go to bed, take five minutes and put your house to bed. An ounce of evening is worth a pound of morning.
*Place a basket in your mudroom specifically for your handbag items. Dump all your handbag items into the basket the minute you walk into the door. On your way out, pick up your chosen handbag and fill it with the items you need for that trip. This will keep your handbags exponentially less heavy and Cheerio-free.
*Wet wipes. Wet wipes. Wet wipes.
*When preparing homemade whip cream, cake mixes, or frostings – keep your mixing bowl in the sink!  Clean up will be a cinch.
*Before putting away your groceries, chop your veggies and  fruit, then place them in an airtight individual containers or baggies for quick snacks and even speedier dinner prep!
*Lotion, gloves, bed. Repeat every night.
*A REALLY BIG calendar – you won't be able to ignore it!
*Post Its! They make perfect love notes placed on the steering wheel for your husband
For our Utah readers, Look for us on KSL's Studio 5 this morning at 11am!


Also look for more NFF Tips in two upcoming spreads of Woman's World magazine!